Nexus 7 price cut imminent with 32GB release
It is becoming more common place in the mobile tech world to see various leaks leading up to any new product being announced officially. This practice is not confined to the likes of Apple and Samsung either, and in the last few days evidence has been mounting that a 32GB Nexus 7 release is imminent with one already being delivered with a price cut expected as well.
The Google Nexus 7 tablet PC by Asus has been pretty well received since it became available, with only more storage being the biggest criticism really. Last week we told you that a listing had appeared on a retailer's inventory system for a 32GB version of the device, and a few days later a consumer tried to purchase a Nexus 7 and spotted a listing for the larger capacity Nexus 7.
Now in a further twist AndroidOS.in are reporting that a Japanese consumer ordered the 16GB version of the Nexus 7, only to be delivered a 32GB model accidently. The actual box for the device is labelled 16GB, but the device shipped via Google Play is actually 32GB. Images of the device have been posted to Twitter that shows the storage option, and seems to be genuine.
The device has recently became available in a number of Asian countries that includes Japan, and the Nexus 7 was originally launched in either 8GB or 16GB flavours, without the option of extending this further.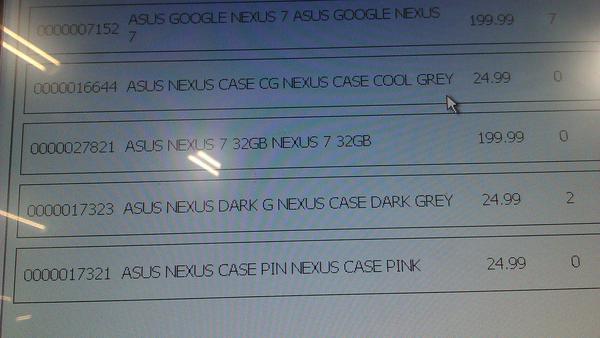 Now though it seems that Google is going to offer consumers a 32GB option, and it seems the device is already in production. Another user has also taken to Twitter and posted a screenshot that is supposedly showing an inventory list from UK retailers Curry's and PC World, which are both owned by Dixons Retail.
The listing that can be seen above shows the 32GB Nexus 7 priced at £199, which is currently the price of the 16GB version. So the units currently available should also be seeing a price cut when the 32GB version is released.