Google Android Playground vs Windows Phone 8 with Events
It appears that the 29th of this month will be quite a busy day, we already knew that Microsoft were to hold their event on the 29th of October in San Francisco where the company will launch their latest mobile operating system Windows Phone 8 that will be on smartphones from Nokia, Samsung and HTC, but it appears Microsoft just might have a bit of attention snatched from their event by Google and Android.
According to a report by Wired, on the very same day Microsoft holds their Windows Phone 8 event, the Google guys have decided to put in a bit of a head to head fight and hold their own Android event, and the Google event is set to kick off three hours before Microsoft.
Word is Google has sent out invites to the Android event that is based in New York City on the 29th, and no doubt this event head to head isn't simply coincidence, as I'm sure Google knew Microsoft was dishing up the goods on Windows Phone 8 on the same day.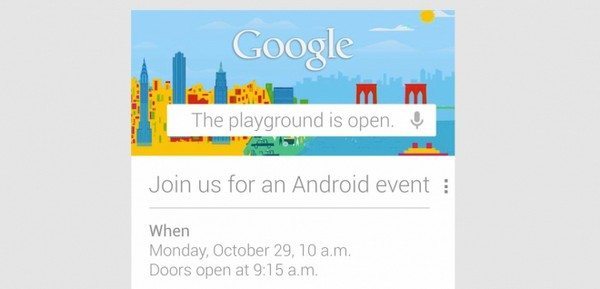 Apparently the Google Android event is being held at Basketball City in New York's Pier 36, but the Android event invite doesn't actually reveal much about what Google will be showcasing, but simply says the playground is open, and that the doors open at 9:15AM.
But what will Google be revealing at this event? Well there have been rumours of the new LG Nexus on its way so they could possibly reveal that, or maybe Google has a replacement for the Samsung Galaxy Nexus, which was announced back on the 19th of October last year, or it has been suggested Google might relaunch their Nexus Q streaming device, but really no one is sure.
One thing is sure though, Google's Android event will no doubt steal some of the thunder away from the Windows Phone 8 event, and of course as and when we hear more on both events we will pass it along to our readers.