iPhone 5 vs Asus Padfone 2, case of conclusion
The Apple iPhone 5 has only been out for a few weeks although it seems far longer. We've given readers a plethora of articles about this flagship device that has been a phenomenal success despite some flaws. It will soon have more competition though in the form of the Asus Padfone 2, due out in Taiwan next week and in many other regions such as Europe before the year is out. We thought we'd have a look at the iPhone 5 vs. the Asus Padfone 2 in a bid to help readers conclude which might be a good choice for them.
If you haven't heard of the Apple iPhone 5 then you must have been living in a cave but many of you may not have heard of the Asus Padfone 2. The original Asus Padfone was a very clever hybrid innovation that used a phone that slotted seamlessly into the back of its own tablet unit to give users a tablet experience as well. It received a lot of praise and now Asus has really come up with the goods with the Padfone 2. We'll give you many of the key specs and features of these two devices to compare them and give readers a good idea of what each has to offer. Both are available in black or white color options. Specs quoted are for the Padfone handset itself and not the tablet station.
Processor and GPU
The iPhone 5 is equipped with a 1.3GHz A6 dual-core processor and PowerVR SGX543MP3 GPU while the Padfone 2 has a 1.5GHz Qualcomm S4 Pro quad-core Krait processor and Adreno 320 graphics.
Display
The latest iPhone stepped up in screen size to 4-inches with IPS LCD Retina display and resolution of 1136 x 640 and 326ppi. The handset of the Padfone 2 on the other hand has a 4.7-inch Super IPS + display with resolution of 1280 x 720 and 312ppi.
RAM and Storage
The iPhone 5 has 1GB of RAM and 16, 32 or 64GB variants (non-expandable) while the Padfone 2 has 2GB of RAM and the same storage options, also non-expandable. However the Asus Padfone 2 also has 50GB of free Asus WebStorage for 2 years.
Camera
The iPhone 5 has an 8-megapixel rear with LED flash, autofocus, touch to focus, digital image stabilization, face detection, geo tagging, HDR mode and Panorama shots with video capture of 1080p HD and also a 1.2-megapixel front facing camera with 720p video. The Padfone 2 on the other hand had a whopping 13-megapixel rear camera with LED flash, autofocus, burst mode, digital zoom, geo tagging, Panorama shots and 1080p HD video recording capability and also a 1.2-megapixel front-facing camera.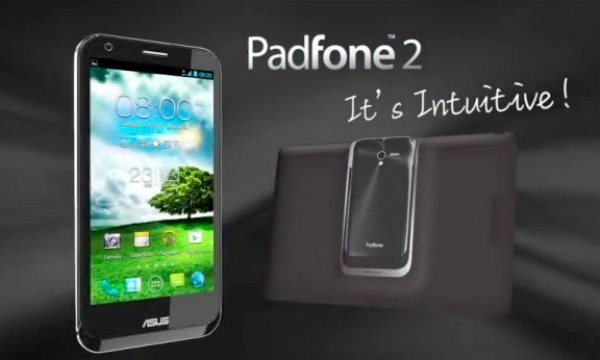 Connectivity
The iPhone 5 has WiFi a/b/g/n, Bluetooth 4.0, 3.5mm headphone connector, USB and proprietary connector. On the other hand the Padfone 2 WiFi a/b/g/n, Bluetooth 4.0, 3.5mm headphone connector and USB 2.0.
Operating System
iOS 6 is the latest Apple mobile operating system and the iPhone 5 was launched running this. Meanwhile the Padfone 2 runs on Android 4.0.4 ICS, which is one of its only drawbacks. However this will be upgraded to Android 4.1 Jelly Bean at some point soon.
Dimensions, Weight and Battery
The iPhone 5 has a larger screen but is even slimmer than the iPhone 4S. It measures 123.8mm x 58.6mm x 7.6mm, weighs 112g and touts a 1440mAh non-removable battery. The Padfone 2 phone measures 137.9mm x 68.9mm x 9mm, weighs 135 and has a 2140mAh battery (removable).
Specs are courtesy of Phone Arena where you can also find more in-depth details. As you can see the Padfone 2 has a better processor, the advantage of a removable battery, larger battery capacity and many more benefits, while the iPhone 5 is slimmer and lighter but of course your own requirements will probably help you to make a choice that suits you.
As well as giving you those specs as a comparison you may also be interested in a infographic about the iPhone 5 and Padfone 2 at Sortable. Along with the specs details we've given here this also takes a look at the major differences, review clips, the competition and also comes to a conclusion on which is best. The overall scores are based on reviews, performance, features and popularity and the iPhone 5 scored 68 against the Padfone 2's 59, therefore making the iPhone 5 the winner.
This is actually pretty tight though and strangely it's only the popularity that makes the iPhone come out top and we're not convinced that this should be a factor. Everybody has heard of the iPhone 5 for example while not so many will have heard of the Asus Padfone but in our books this doesn't necessarily mean that the iPhone 5 is automatically better than the Padfone 2. In performance for instance the Padfone 2 scores 100% against 92% for the iPhone 5 and for features the Padfone 2 also comes out on top with 94% against the iPhone 5 on 88% so make of that what you will!
We'd like to hear your own conclusions on the iPhone 5 vs. Padfone 2. Would you like to get your hands on either of these devices? Which would you add to your holiday wish list? Send your comments to let us know.