Samsung Galaxy S3 Mini price, where to buy in UK
We've been giving out plenty of information about the Samsung Galaxy S3 Mini smartphone that is due out shortly. This is indeed a mini-me of the Galaxy S3 (S III) as far as appearance goes although you should bear in mind the specs are a different picture altogether. Although the S3 Mini has the advantage of launching on Android 4.1 Jelly Bean, the other specs don't really live up to its grander sibling but despite this it's likely that there will be many potential customers of the Mini. Today we can give you the Galaxy S3 Mini price, release date and details of where you can buy it in the UK.
We previously gave some unconfirmed release news for the UK and today's information seems to back up the rumors. A product page from unlockedmobiles.com gives a November 2nd release date and retail pricing of £295 for the Samsung Galaxy S3 Mini although at Expansys as we mention further on, it is priced at £314.99. As a reminder of Galaxy S3 Mini specs, it has a 1GHz NovaThor dual-core processor, 4-inch AMOLED display with resolution of 800 x 480 and 233ppi, 1GB of RAM, 8GB of internal storage expandable via microSD to 32GB, a 5-megapixel rear camera and VGA front-facing shooter. It also has NFC capability and supports S Beam, Smart Stay and other features.
Some news of availability and pricing came to us from ITProPortal, which also informed us that in the UK, Carphone Warehouse and Phones 4 U are accepting pre-orders. You can now also pre-order from Expansys, white version here, or blue version here where the SIM-free price of the 8GB Samsung Galaxy S III Mini is £314.99. We have also found the Galaxy S3 Mini offered by Clove for £298.90. As far as pricing goes we think this is actually pretty expensive. In our comparison of the Galaxy S3 vs. S3 Mini we noted that some potential customers may feel rather let down by the specs of the S3 Mini as opposed to the original Galaxy S3. The S3 Mini is very much a midrange phone against the high-end handset of the bigger Galaxy S3.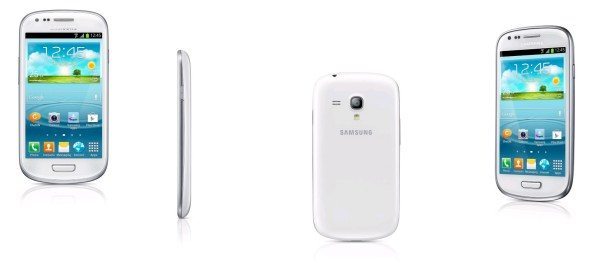 However, whilst we felt that Galaxy S3 Mini didn't quite live up to our expectations we told how one advantage might be the price as it was unconfirmed but expected to be around £250 SIM-free. The current Galaxy S3 is usually priced between £400 and £500 SIM-free so it looked as though the S3 Mini might be as much as half the price of its inspiration. When we take the Expansys price of £314.99 into account though it's not looking as much of a bargain at all, especially when considering that the Galaxy S3 can now be found for as low as £370 SIM-free according to IT ProPortal. We have also found details for you of contract price tariffs from Phones 4 U here or from Carphone Warehouse here, which of course give pricing for various operators such as Vodafone, Orange, O2. Phones 4 U is also offering a free Pebble MP3 player with the Galaxy S3 on certain contracts.
Bearing the contract-free price in mind we're interested to hear what readers think about the pricing for the Galaxy S3 Mini in the UK. Do you think it's worth the money if there's so little price difference? Maybe you think the more portable size and the fact that it comes running 4.1 Jelly Bean is enough to make it worth purchasing? Let us know with your comments.