Sharp Aquos Pad SHT21 tablet on KDDI is appealing
Last week Sharp unveiled the first smartphone on the globe that sports an IGZO panel, a handset called the Sharp Aquos Zeta SH-O2E for the Japanese market, and now Sharp has brought that new panel tech to the tablet space by introducing the first slate to come with an IGZO panel in the form of the Sharp Aquos Pad SHT21 tablet.
According to a report over on Android Authority, by way of Engadget, the Sharp Aquos Pad SHT21 tablet is a 7-inch slate is an Android Ice Cream sandwich tablet that is destined for Japan's KDDI in the middle of December, and apparently the IGZO (indium gallium zinc oxide) panel will help the tablet deliver a battery life of up to two and a half times greater than a regular slate.
Other than that low power 7-inch display the Sharp Aquos Pad SHT21 tablet sports a screen resolution of 1280 x 800 pixels, along with a 1.5GHz Snapdragon S4 MSM8960 dual core processor, 1GB RAM, 4G LTE connectivity, NFC, Bluetooth 4.0, MHL,16GB internal memory, microSD expansion and pen optimisation.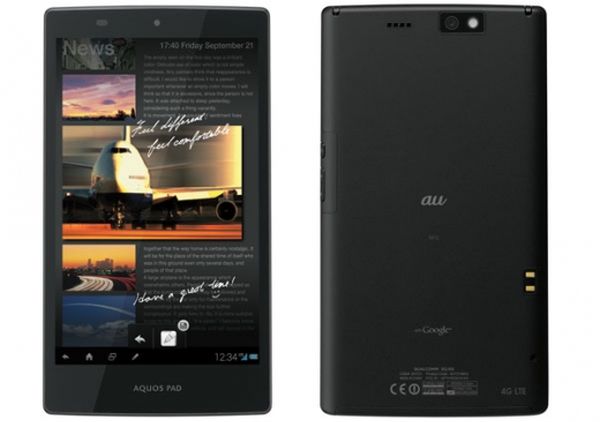 The Sharp Aquos Pad SHT21 tablet also sports a 3460mAh battery, is 9.4mm thick,weighs in at 280 grams, is water and dust resistant, and will run ICS at the outset, but there is no word on if the slate will see an update to Android Jelly Bean.
There's no word on just how much the Sharp Aquos Pad SHT21 tablet will command once the slate becomes available, but one should probably remember that the device will more than likely never see the outside of Asia anyway, and considering it is sporting that IGZO panel would probably be quite an expensive piece of kit.