2013 Sony C6603 Yuga flagship phone snippets
A few weeks ago we brought readers news of an upcoming 2013 Sony flagship device called the Xperia 650X Odin along with some initial details of two more Sony phones coming next year. Today though we have heard of another smartphone for Sony next year in the form of the C6603 Yuga and we have some further details for you.
Somehow the C6603 (or C660X), dubbed the Yuga, had passed us by but although not many details on specs and features are available yet we do have some snippets for you, which you might find interesting. This has a higher model number than the Odin and has appeared in AnTuTu's benchmark database giving us a few scant details. The Yuga appears to have a 1.5GHz quad-core Krait processor while the OS, as expected for a flagship device is Android 4.1.1 Jelly Bean.
The benchmark test also showed a score for the Yuga of 11,321 as opposed to the Xperia T on 8,270 using a Snapdragon S4 Plus and the LG Optimus G on 13,643 using a Snapdragon S4 Pro. This does suggest the Yuga's processor is more likely to be the S4 Pro than the S4 Plus as GSM Arena reports but at the moment it's a question of wait and see. Another GSM Arena article describes the Yuga display from NenaMark2 benchmark results, which have since been removed, as 1080p with resolution of 1920 x 1080. Although this is full HD we still don't know a screen size but it's unlikely to be smaller than 5-inches.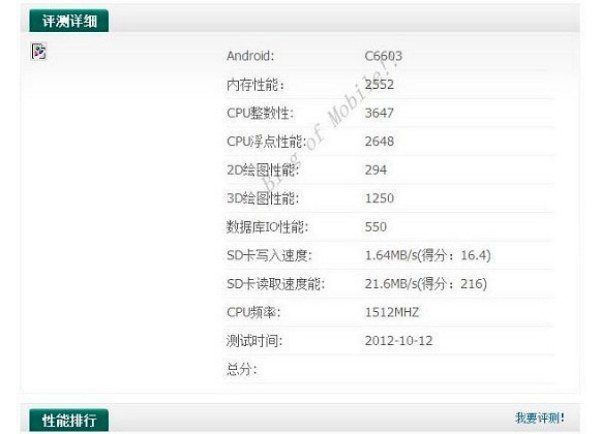 In further news from Xperia Blog, sourced from Blog of Mobile, a leaked Picasa sample photo from the Sony Yuga suggests that the rear camera will be no slouch and looks like it has a 13-megapixel Exmor RS CMOS sensor. It's early days but from what we've heard so far the Yuga looks to be joining the Odin as a Sony flagship device for 2013 and of course we're likely to hear more at MWC in February next year.
We'll certainly be keeping tabs on this and will pass on more information as we hear it. Would you be interested in a Sony device for your next smartphone or do you already have something else in mind? Let us have your comments on this.