New iPad 3 nifty refresh on the cards at Apple event
We've been bringing readers plenty of news lately about the highly anticipated iPad mini, due to be launched at an Apple event in a few days time on October 23. However one thing that we hadn't heard much about was a refresh for the new iPad, the current 3rd generation of the tablet. It now seems that we are also likely to see an updated full-sized iPad revealed at the same event.
There has been growing evidence of the 9.7-inch iPad upgrade with sources leaking information about pricing and saying it will remain at the same prices as the current 'new iPad.' Those prices are $499, $599 and $699 for the Wi-Fi only versions and $629, $729 and $829 for the LTE models and look likely to be for the same storage options as currently, 16, 32 or 64GB. The update won't be a major revamp but more of a mild refresh, for a start the upgraded iPad is likely to feature the smaller Lightning dock connector that came with the iPhone 5.
This pricing news came to us from 9to5Mac who also say that another possibility for the refreshed full-size iPad is global LTE, which also appeared on the iPhone 5. As further evidence another 9to5Mac article shows a photo sourced from Apple.pro purporting to be of the upcoming improved new iPad. The image (seen below) shows the shell with a smaller connector port in line with the rumors. Apple.pro who are described as having a pretty good track record of reliability posted it on Facebook.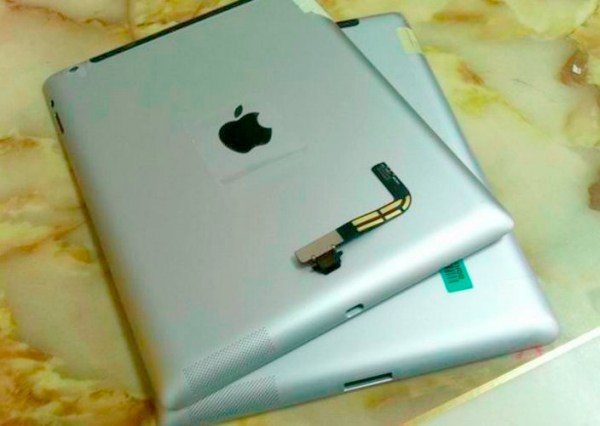 iDownload Blog reports that the updated new iPad could also have IGZO display technology and improved heat dissipation. If this was accurate it could also mean that the refreshed iPad could be even thinner and lighter than the current model. From what we're seeing we'd say it does look likely that we will not only see the iPad mini emerge on Tuesday but also the mildly revamped new iPad or iPad 3 as it's sometimes referred to as.
We'd like to hear your thoughts on a refresh of Apple's current iPad. Are you surprised that Apple would come up with an upgraded new iPad only around 6 months after its launch? Would you be interested in an upgraded full-sized iPad or are you more focused on what the iPad mini will have to offer? Send your comments to let us know.