Apple October 23 Event Liveblogs and worldwide times
The anticipation is building nicely for the Apple event on October 23 where we expect plenty of information including an unveiling of the much-rumored iPad mini and as we mentioned recently, refresh of the current 'new iPad' or iPad 3. The event takes place at the California Theatre in San Jose and the action begins at 10am PT tomorrow. If you want to follow all the developments as they happen then we have details for you of many event liveblogs as well as worldwide times so you don't have to miss a thing.
Of course we shall be following the news and will also endeavor to bring readers details of what is announced at the event. Apple will not be offering a live video stream although often after Apple keynotes the Apple website has a video to view at some point. There are plenty of tech sites offering live blogs from the event though and we can detail some of them here for you. Simply hit the links and you will be taken straight to any of these sites' live blog pages to follow the event as it happens.
First we have Cnet, then The Verge followed by TechnologyTell, Slash Gear, Time Technologizer, Gizmodo and finally the inevitable Engadget. Although the event begins at 10am PT/ 1pm ET some of these live blogs will begin up to an hour earlier and some just a few minutes before.
As far as world times go you can check out the times for wherever you are in the world below as we've created an event time announcer courtesy of timeanddate.com. You'll see San Francisco listed as 10am, New York 1pm, London 6pm, New Delhi 10:30 pm, Paris 7pm, Johannesburg 7pm, Moscow at 9pm and many more major city times from across the world. All of these are on Tuesday October 23 but be aware that in some countries the time difference means it will in fact be on Wednesday.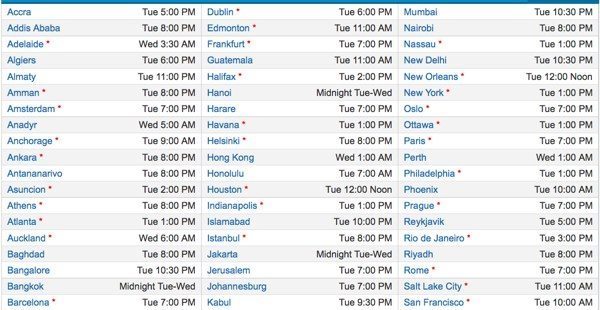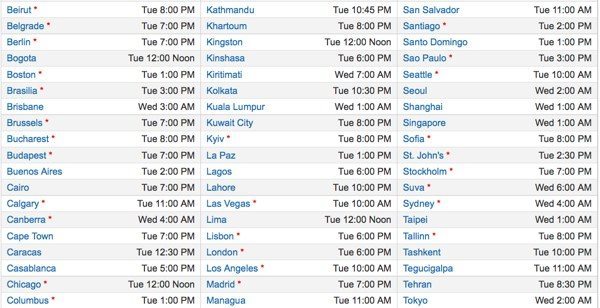 For example for Sydney it will be Wednesday at 4am, Hong Kong 1am, Tokyo 2am, Beijing 1am, Auckland 6am. For all of these examples it will be on Wednesday. Hopefully you will find exactly the information you need from the above details and you'll be able to track the news as the event unfolds. It seems that the California Theater where the keynote will take place is already being readied and decorated for the occasion according to iDownload Blog so it's all systems go! Remember we'll be bringing you the event news too so do check back with us.
Will you be following the Apple event tomorrow? We'd like to know what you're most hoping to hear about, the iPad mini, a refreshed iPad 3, a Retina MacBook Pro, iBooks 3.0 or something else entirely? Send your comments to let us know.