iPhone 5 flicker is software problem, fix possibly on way
As we reported not all that long ago, the iPhone 5 is currently experiencing a flickering issue when using the keyboard, an issue that has been around since Apple launched the latest iOS smartphone resulting in many users complaining that the keyboard flickers when attempting to enter the App Store password.
There have been many complaints being posted on Apple Discussions, some saying it has to be a software problem whilst other think it isn't, but according to iDownload Blog, an incremental iOS 6 update, which has entered testing will apparently fix this keyboard flickering problem along with other issues that have been persisting in iOS 6.
Apparently an iDownload Blog reader received an email from the guy who is in charge of the iOS platform, Apple's senior vice president Scott Forstall, in response to the reader inquiring about the flickering problem, and asked whether the issue was software or hardware.
The reader basically asked if the issue is software will it be fixed with iOS 6.0.1, to which, Forstall basically replied that yes it is and they have a fix.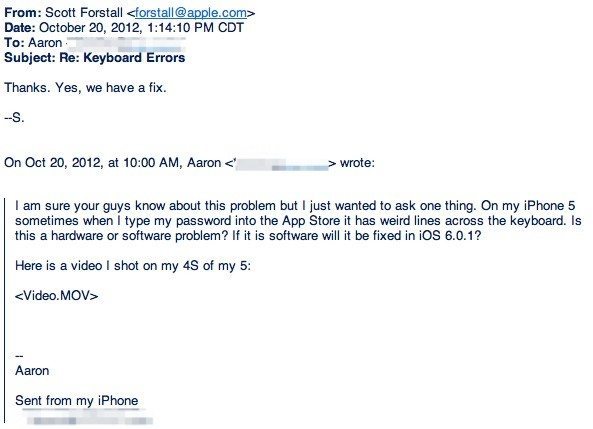 Apparently the guys have verified the email headers, but as you know these things can be faked with ease, but if the email turns out to be legit, then it would appear that a fix for the flicker issue on the iPhone 5 is on the way, just when the iOS faithful are likely to see that iOS 6.0.1 update is anyone's guess at the moment though.
So what do our iPhone 5 toting readers think, do you think this email response from Scott Forstall could be legit, or is someone pulling our chain? Feel free to voice your opinions to our comments area below.