4G EE LTE UK perfect for iPhone 5
When the Apple iPhone 5 was recently released many of us were pretty excited that it was equipped for 4G LTE service, not just in the US but for the UK too. The only drawback at the time was the lack of 4G service in the UK but we knew that EE (Everything Everywhere) would be the first UK operator to offer the service. We now know that the 4G EE LTE service for the UK will go live on October 30 and that will be perfect for the iPhone 5 and its users who want to be the first to try out 4G speeds. The service has been named by EE as 4GEE.
Yesterday we told readers that EE had now given details of its 4G price plans. You can see full details at the link but as a brief guide monthly plans start from £36 for 500MB of data though to a whopping £56 monthly for 8GB of data with unlimited calls and texts. The first 10 cities to receive the 4G service will be Birmingham, Bristol, Cardiff, Edinburgh, Glasgow, London, Leeds, Liverpool, Manchester and Sheffield although you will still be able to purchase the service wherever you are in the in the UK. By the end of 2014, it's planned that 98% of the population will be covered by 4GEE.
Of course you won't be able to take advantage of the 4G LTE service without an LTE smartphone and as the iPhone 5 only hit the shelves in the last month it's a fitting choice for the brand new 4GEE service in the UK. Other phones that readers can choose from include the Galaxy S3 LTE ready and HTC One XL 4G LTE ready (see more here) but these enabled handsets need to be purchased directly from T-Mobile, Orange or partner retails stores. However the iPhone 5 can use 4GEE wherever you bought it in the UK. EE also has an offer in place whereby they will offer an LTE upgrade for only £99 if a customer has recently purchased the iPhone 4S, Galaxy S3 or HTC One X.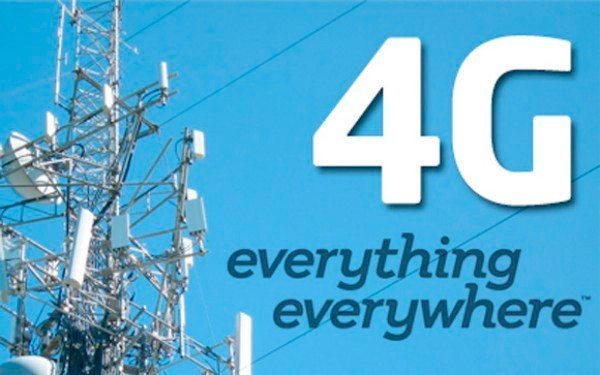 If you want to become an EE customer you will now need to select from one of its 4G LTE plans, which seems rather pointless if you don't live in an LTE area. However as the rollout of the service continues this won't be as much of an issue and it's important to remember that once you do have 4GEE you will benefit from mobile data speeds of between 8 and 12 Mbps. Once other operators such as O2 and Vodafone get on the 4G bandwagon it will be interesting to see how competitive the different price plans are and if anybody comes up with an unlimited data plan.
If you are thinking of purchasing an iPhone 5 to use on EE's 4GEE service we'll remind you of some of its key specs such as its 4-inch Retina display with resolution of 1136 x 640, A6 processor, 16, 32 or 64GB options for internal storage, 8-megapixel rear camera with 1080p video capture and 1.2-megapixel front-facing camera.
We'd love to hear what you think about EE's 4G LTE service. Are you planning to purchase an LTE-equipped handset in the UK to take advantage of the 4GEE service that will go live very soon? Maybe you already bought the iPhone 5 with this in mind and can't wait to see the differences in speed that 4G brings? Let us know with your comments.

Sources: EE (1) AND EE (2)