Samsung Galaxy S3 Mini vs Nokia Lumia 510: Strange Comparison
In the budget smartphone space Samsung has their Samsung Galaxy S3 mini to vie for the money of those that a tad cash strapped, but Nokia also wants to grab a slice of the budget handset segment with their new Nokia Lumia 510, a handset that some believe could be a threat to budget Android handsets. But which of these two can come out top in a comparison?
Well we have a comparison between the Samsung Galaxy S3 mini and the Nokia Lumia 510 for your viewing consideration below which was done by Nvo News, which is a bit of a strange comparison considering both handsets are for different markets, with the Galaxy S3 mini destined for Europe, whilst the Lumia 510 is headed for India, Asia, China and South America.
Anyway we believe a good comparison between rival devices is well worth it, so lets kick off with the touch screen, the Android Jelly Bean handset and the Windows Phone 7.5 handset both offer a 4-inch touch screen, although the Lumia 510 is WVGA whilst the Galaxy S3 mini is Super AMOLED.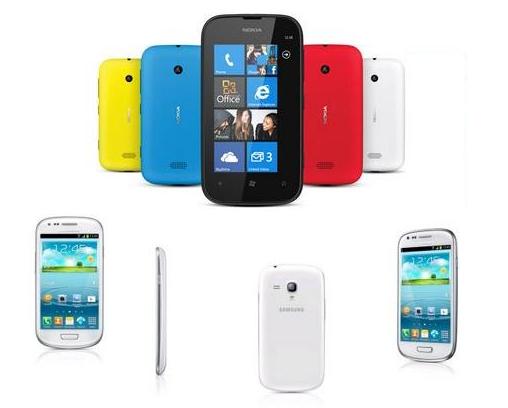 The Sammy budget smartphone out paces the Nokia handset when it comes to processor and RAM with the Galaxy S3 mini packing a 1GHz dual core processor and 1GB RAM, whilst the Lumia 510 has a Snapdragon S1 800MHz processor and just 256MB RAM.
The Galaxy S3 mini also bests the Lumia 510 in internal storage, with the SGS3 mini having 8GB or 16GB options, whilst the Lumia 510 has only 4GB, and no microSD expansion like the Galaxy S3 mini with its microSD slot that can expand up to 32GB, although the Lumia 510 does come with 7GB of free online storage.
Camera wise the Samsung Galaxy S3 mini sports a 5 megapixel auto-focus rear facing camera with LED flash, 720p video and a VGA front facing camera, and the Nokia Lumia 510 has the same 5MP rear facing snapper with VGA video at 30fps, but seems to lack a front facing camera, although that hasn't been confirmed.
Size wise the Nokia Lumia 510 measures 120.7 x 64.9 x 11.5mm, whilst the S3 mini measures 121.6 x 63 x 9.9mm, so a tad slimmer, and also bests the Windows Phone in weight, coming in at 11.5 grams whilst the Lumia 510 weighs 129 grams, and in the battery stakes the Galaxy S3 mini also wins with a 1500mAh battery while the Lumia 510 sports a 1300mAh battery.
So there you have it, a quick comparison between these two rival budget devices, but whether you opt for the Nokia Lumia 510 or the Samsung Galaxy S3 mini will probably boil down to the pricing of each device, and whether you prefer Android Jelly Bean or Windows Phone 7.5 Mango.
If our readers had to pick between the two, which would they opt for?