Xiaomi Mi Two release date in 2 days as promised
If you happen to be over in China in a couple of days time, and in the market for the successor to the popular Xiaomi Mi smartphone, it appears that you should be able to get your handset on the Xiaomi Mi Two in just two days time, when true to their word the company will release the handset.
According to a report over on GSM Arena, Xiaomi has let potential purchasers of the Xiaomi Mi Two know that the smartphone will be released on Friday the 26th of October at 6PM GMT by posting an image saying as much to their Facebook page.
The Xiaomi Mi Two offers the user a 4.3-inch IPS LCD touch screen along with 720p resolution, a 1.5GHz quad core Krait processor, 16GB internal storage, 2GB RAM, an 8 megapixel rear facing auto-focus camera with LED flash, a 2 megapixel front facing snapper, WiFi, A-GPS, microSD expansion, runs Android Jelly Bean, and packs a 2000mAh battery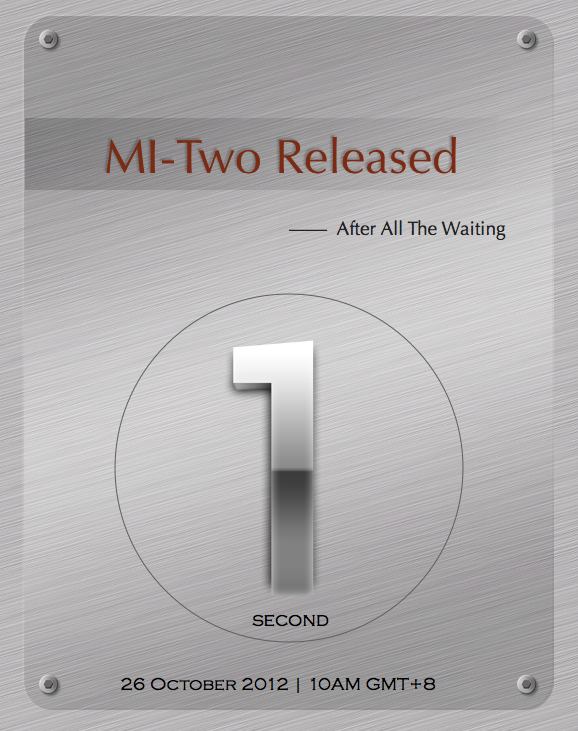 Apparently the firm has a rather unorthodox way of selling their smartphones in as much as they build up a batch of roughly 30,000 devices and then put it up for sale, and once that batch runs out the firm stops selling the device until another batch is ready to offer, although it isn't quite clear just how many Xiaomi Mi Two handsets will be in that initial batch, but it is expected they will fly and sell out very quickly.
As for just how much the Xiaomi Mi Two smartphone will hit your pocket for, word is the handset commands a price tag of RMB 1999, which is roughly 225 Euros or 315-bucks.