Samsung Galaxy S3 Jelly Bean update for UK, Unlocked only
We always try to nudge readers about new operating system updates that may be coming their way and lately we've been posting plenty of info about the Android 4.1 Jelly Bean update. Around a week ago we finally heard that Jelly Bean was now being rolled out by some UK carriers and there's further good news today as we can tell you that the Samsung Galaxy S3 Jelly Bean update for the UK is also now being released to unlocked versions.
O2 and Three were among the first to offer the Jelly Bean update to their Galaxy S3 owners in the UK last week, followed by Vodafone and although the rollout briefly stalled on O2, the update is being released in stages. This just left Orange and T-Mobile owners of the device as well as those with SIM-free (unlocked) Galaxy S3s waiting and then only yesterday we heard that the Jelly Bean update for the SIM-free Galaxy S3 was imminent.
Although some may be surprised that the update didn't arrive for the unlocked Galaxy S3 first it seems that Samsung may just have been checking that there were no major issues with carrier versions before unleashing it to those not tied to any particular operator. Earlier today it was reported that users of the BTU (British Unlocked Region) version of the SIM-free Galaxy S3 were starting to receive the Jelly Bean update either over-the-air (OTA) or via Kies. It's a 248MB update and Jelly Bean will bring plenty of improvements and new features such as Google now and performance enhancements thanks to Project Butter.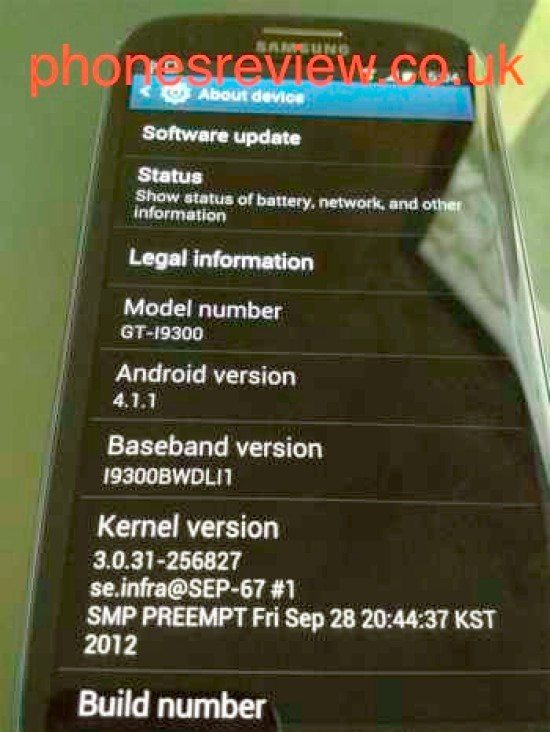 Above you can see a picture we took of our own Samsung Galaxy S3 purchased in the UK with 4.1.1 Jelly Bean running nicely. If you are in the UK and have an unlocked Galaxy S3 you may already have received notification of this update but if not and you want to look manually then look at Settings, followed by About Device and then Software Update to check if it's ready, it is always good to connect to Samsung Kies as well, you never know. Android Central sourced to the Android Central Forums for this and we note that the thread there states that the Jelly Bean update is available to US owners of the international unlocked version, which some may be pleased to hear.
We should perhaps spare a thought though for US readers with the Galaxy S3 carrier versions as we've mentioned previously that they are still waiting. The last official news from Samsung was simply that Jelly Bean would arrive in the "coming months" and of course that could mean that they may have to wait into next year. Understandably this is causing a certain amount of frustration but hopefully Samsung will push the update out sooner rather than later.
Are you in the UK and do you have an unlocked Galaxy S3? Have you already received notification that the Jelly Bean update is now available and if so, how did your download go? Let us have your comments to let us know.