iPad GarageBand piano app featured in duet video
Apple's smaller iOS slate is now available, and obviously the company wants everyone to know about the iPad mini, and as such they have put out a new commercial. The advert places a full sized Apple tablet next to its smaller brother, with both devices running the GarageBand piano app. We have placed the video below for your viewing consideration.
In the footage, Apple opts for a piano duet between both slates to promote the devices, rather than letting a spokesperson do the talking, and simply draws attention to the fact that the latest iPad is indeed smaller, but can still do what its bigger sibling can do.
The advert takes advantage of the GarageBand iOS app, an application that turns the iPad, iPod Touch and iPhone into touch instruments, and a full features recording studio. The app enables the user to play dozens of instruments on an innovative touch keyboard, allowing the user to mix songs with up to 8 tracks.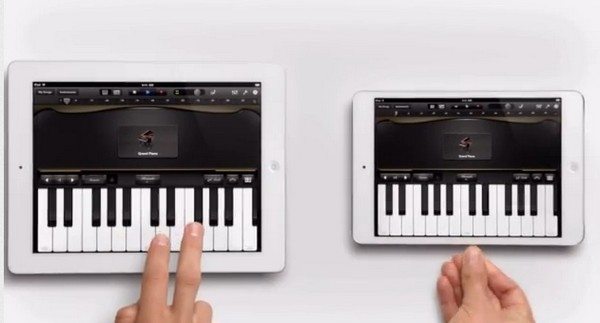 The GarageBand app also enables the user to tap chords to create keyboard grooves with the Smart Keyboard, create custom chords, and use your device to record live or play over Bluetooth or WiFi, with up to 3 friends.
The application also features a Note Editor, so that the user can fine tune any touch instrument recording, whilst a Mixer enables the fine tuning of each track's volume, with the ability to adjust pan, echo, and reverb, or mute any track.
The GarageBand app for iOS devices allows the sharing of your musical creations straight to SoundCloud, YouTube and Facebook, and you can even email your tunes from GarageBand (AAC).
With the app users can enjoy a range of smart instruments that can make them sound like a pro, including guitars, drums, organs, basses, and of course pianos like in the iPad mini advert below.
Getting back to that iPad duet commercial, it's a pretty straightforward advert that just basically shows both devices playing out a tune simultaneously. However, this same iPad mini advert was recently lampooned by Conan O'Brien, which added a few words to the commercial.