Nokia Lumia 920 AT&T due today with no contract price
Those over in the good old US of A that have had their eyes on the Lumia 920, and their carrier of choice is AT&T, you might like to know that AT&T will make the Nokia smartphone available on three price options, including a no contract price for those that don't wish to have any commitment.
The Nokia Lumia 920 will be available from AT&T for a no contract price of $449.99 due today, if you simply cannot stand committing to the carrier. However if you don't mind signing your life away there are two other options available.
You can opt for a two-year contract, which will get you the Windows Phone for $99 giving you a saving of $350 on that no contract price. Or, if you wish you can opt for signing up to a one-year agreement, which will set you back $349.99 for the smartphone.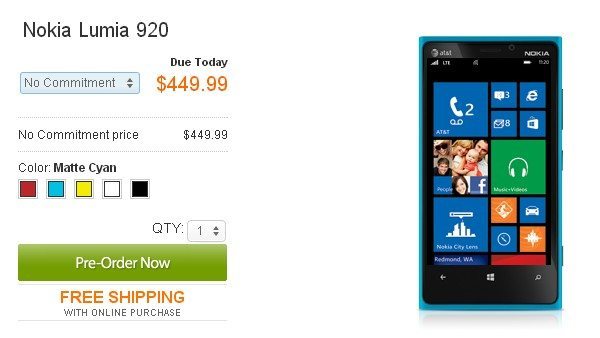 The Nokia Lumia 920 is of course an LTE enabled Windows Phone 8 smartphone that will play nice on AT&T's 4G network, and offers a 4.5-inch IPS PureMotion HD touch screen with Corning Gorilla Glass 2, a 1.5GHz Snapdragon dual core processor, an 8 megapixel rear facing auto-focus camera with dual LED flash and Carl Zeiss optics, 1080p video, and a 1.3 megapixel front facing camera.
The AT&T Lumia 920 also offers Xbox Music, NFC, 802.11a/b/g/n WiFi, Bluetooth 3.1, A-GPS, Nokia Maps, Nokia Drive, several preloaded AT&T apps such as AT&T Navigator, AT&T U-verse live TV, and AT&T Music.
The smartphone measures 5.13 x 2.79 x 0.42-inches with a weight of 6.5 ounces, and comes with a 2000mAh battery said to be good for up to 9-hours of talk time and up to 13-days of standby time, and available in several colour options.
So there you have the price options for the AT&T Nokia Lumia 920, which option will you be going for, commitment or off contract?