Nexus 4 Official Bumper Case Review shows sheer quality
Most of you will know about the LG Nexus 4, Google's latest Nexus handset that sold out within hours of going on sale at the Google Play Store. When stocks are replenished or if you're one of the lucky ones who already managed to get your hands on the Nexus 4, then you may want to protect it with the official bumper case. Today we have news of a hands-on look together with a video showing you more of the bumper case.
Recently we informed readers about the official Nexus 4 bumper case, also available through Google Play. It's priced at £15.99/$20 and has been specifically designed for the Nexus 4. Just like the phone itself, the bumper case also sold out but we have just checked the UK Google Play Store and it appears to be back in stock now with a delivery time of 3 to 5 days. If you want one you might be best to order one quickly (product page here) as we imagine these could easily sell out again.
The Nexus 4 is a good-looking phone but has glass on both front and back that many worry about protecting. We all know how frustrating it is to get that first scratch or scuff on a shiny new phone and although a bumper case won't offer 100% protection, it will go a long way to keeping your phone looking good. Phandroid has already managed to get their hands on the Nexus 4 and also a bumper case and you can see a video below this story of their hands-on look at the bumper case.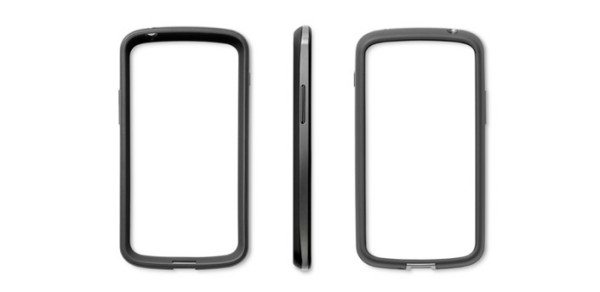 The build quality of the case is highly praised as being real quality and is constructed of rubber and plastic. It has a smooth black TPU-like finish to the front and a textured back while the sides have a metallic-finished plastic band and the power buttons and volume rocker have a chrome finish. It is said to firmly grip the phone. As a bumper case is designed to go around a device the back of the Nexus 4 is left exposed. However, the rim to the reverse is described as slightly higher than on the front giving a further amount of protection.
The team at Phandroid certainly seem suitably impressed with the official Nexus 4 case which they say is an "instant buy" so it appears that this accessory could be well worth the money, that is if you're fortunate enough to successfully order the Nexus 4 phone. While you're waiting you may also be interested in our review verdict roundup and mounting evidence that a white Nexus 4 could be released in December.
We'd like to hear your thoughts on the official Nexus 4 bumper case from Google Play. Will you be ordering one of these cases? Maybe you managed to get one of the first ones available and could tell us what you think of it? Let us know with your comments.