Walmart app quick access for holiday savings
In the run up to Christmas many of us are turning our attention to gifts, either to add to our own wish lists or to purchase for loved ones. The busy holiday season sees a rush to the stores for bargains and today we have news for readers of a really useful Walmart app that will give you quick access to holiday savings. The free iOS app is suitable for iPhone, iPad and iPod touch and an Android app is also available and could turn out to be invaluable.
We all know what it's like, checking wish lists, the inevitable rush to the stores for holiday shopping, the crush and of course attempting to get the best deals available. This is where the Walmart app from iTunes here, could really come in handy as it will help you locate the best products and prices from your home or when in stores or somewhere in between! The app is compatible with iPhone, iPad and iPod touch running iOS 5.0 or later and offers tools that will make your shopping experience easier. Alternatively the Android app is available through Google Play here and suitable for devices running Android 2.1 or later.
If you happen to be in a Walmart store then you can use the store mode of the app that has a built-in scanner to give you the current price of products. You can also devise Smart Shopping Lists to help you budget for your shopping, check to see if certain items are in stock and even find them in store with aisle location. The app will also assist users in finding and clipping coupons, looking for other stores nearby and checking store opening hours and directions.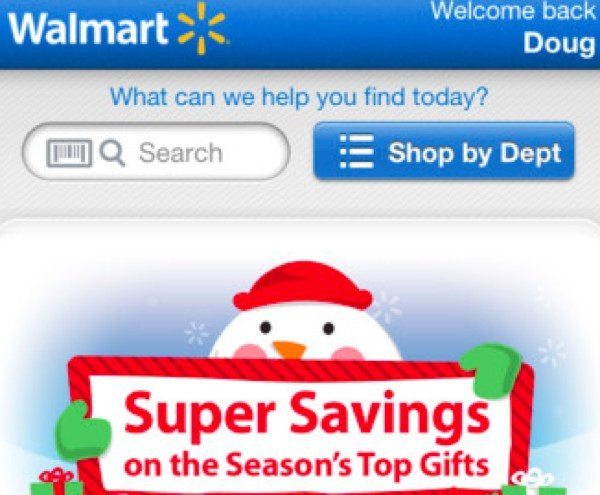 When shopping online from Walmart.com user can save on items and shipping, with free shipping if your order is sent to a Walmart store or to certain FedEx centers. There's also free shipping available for Home Free item orders of $45 or over and for other select items shipping charges of only 97 cents. The app can also be used for returning items with no hassle, either by shipping or visiting a Walmart store. One of the best features is that users can find savings through Rollback or Value of the Day.
The new iOS version of the Walmart app has been updated with new designs and more features such as viewing ads in rich full-screen mode, push notifications and the store mode so why not take a look at the Walmart app at the App Store. Are you gearing up for your holiday season shopping? Maybe you already use the Walmart app and could recommend it, or not, to our readers by sending your comments.