Xbox video syncing to Windows Phone 8 is problematic
When Microsoft launched Xbox Music and Video things didn't go all that smooth with many people complaining about having to repurchase items along with incompatibility issues. One of the main complaints is that users can't transfer their purchased videos from Xbox video to their Windows Phone 8 device.
The guys over at Wpcentral reports they have verified this problem by spending a few hours going through various steps to transfer purchased items over to Windows Phone 8 and failed each time. Now apparently Microsoft has posted to their support page on the matter.
Microsoft now confirms that purchased or rented content from the Xbox video store is not currently supported in Windows Phone 8, but if users want to see the feature added they can visit the Windows Phone Feature Suggestions site and make a request.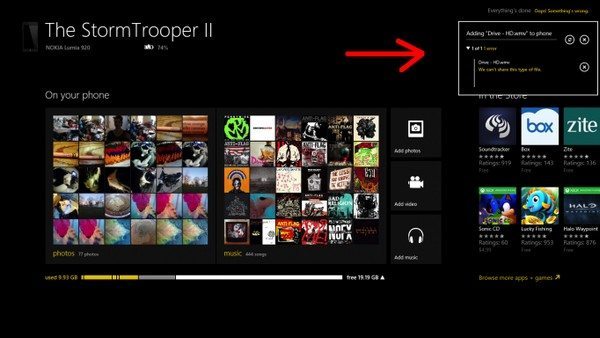 To check things out further the guys purchased Warrior 2011 from Xbox Video and Drive 2011 from Zune Video, and neither work on their HTC 8X or Nokia Lumia 920, which means older Zune videos will also not work on Windows Phone 8.
When users purchase their items they are told they own a license to play those items on a Windows Phone, which is technically true, but as long as you own an older handset, as they will not work on Microsoft's latest mobile operating system.
Naturally most would say that Windows Phone is a work in progress and it's not finished, but if you are upgrading to Windows Phone 8 this hole in Xbox Video feature is somewhat unacceptable, and Microsoft needs to do something about it in a hurry rather than telling people to request support be added to a future release.
This must be somewhat embarrassing for Microsoft considering they tout one of the main selling points of the ecosystem was the three screen idea, and now that looks to be falling somewhat short, and this just adds to the other problems Windows Phone 8 is experiencing.