Nexus 4 online orders for India and pricing
We've been bringing readers plenty of news about the Google Nexus 4 made by LG and although readers in many regions have been able to order directly from Google Play, our many readers in India have not been so fortunate. Today though we have some news on the Nexus 4 and online orders for India with pricing, although unfortunately the price for India is rather steep.
Customers in many countries have already been able to order the Nexus 4 although it sold out notoriously quickly and so there are many people still waiting to get their hands on it. This Android 4.2 Jelly Bean handset is in huge demand while supplies are scarce. Although it went back on sale a few days ago in the US, those who managed to order it found that shipping times are now several weeks. However those in the UK have not got the option to order as the phone is simply listed at the Google Play Store as sold out, asking potential customers to check back another time.
Although no official date was given for Nexus 4 availability in India many of those in the know reported that it might be out at the end of November. Gizbot announced earlier this month that prior to the official release of the Nexus 4 in India it was being sold online through eBay.in at a price of Rs. 23,490 for the 8GB variant or Rs. 27,490 for the 16GB variant. Following this yesterday Gizbot gave details of another online retailer, Tradus.com, which is selling the 8GB Nexus 4 (Imported) at Rs. 34,500, a price also listed by goProbo.com.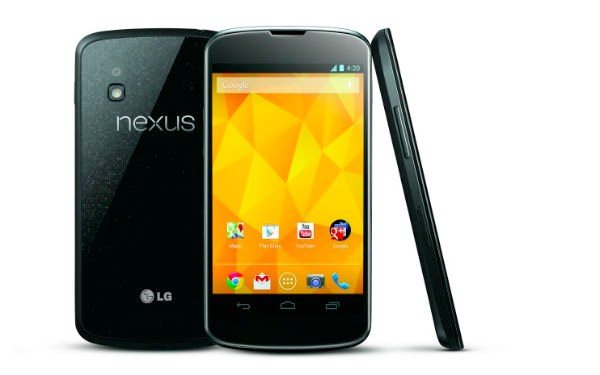 Currently if you check out the Nexus 4 details at Tradus you'll see it's listed with a dispatch time of 10 to 15 working days. This price may well seem exorbitant though, especially when considering it equates to US $635 where the 8GB version at Google Play sells unlocked for $299 (UK £239) while the 16GB variant costs $349 (UK £279). Another online retailer in India, Saholic.com, also lists the 16GB Nexus 4 but with no pricing and a message simply saying "coming soon." In fact we've just clicked on the "notify me when available" and a message pops up saying the Nexus 4 will be available on by 15th January 2013!
As a brief reminder we'll tell you the key features and specs of the Nexus 4 (E960) include a 1.5GHz Qualcomm quad-core Krait processor, 4.7-inch True HD IPS display with resolution of 1280 x 768, 2GB of RAM, 8 or 16GB of internal storage (non-expandable), an 8-megapixel rear camera and 1.3-megapixel front-facing camera. It launched on Android 4.2 Jelly Bean, upgradable to 4.2.1.
There's no doubt that the Nexus 4 has a lot to offer, especially in regions where it has been priced so reasonably. However the prices we've seen so far for India are much higher and so we'd like to hear from readers about this. Are you still keen to purchase the Nexus 4, even at these prices? Maybe you are disappointed that the price is so expensive for India so far and you will now choose another smartphone instead? Send your comments to let us know.