Nokia Android phone speculation denied
No doubt although it seems Windows Phone is doing rather well for Nokia there will always be some speculation that Nokia should have opted to go with the Android operating system. However they didn't, although we did report that there was a possibility a Nokia Android phone was on the cards the other day due to Nokia posting a job listing in LinkedIn.
We reported the other day that a job listing by Nokia showed that the Finnish company was on the lookout of a senior engineer with experience with Linux. Although Linux is the foundation of the Android operating system, a simple job listing for a senior engineer with knowledge of Linux doesn't mean Nokia is turning to Android for future handsets.
In fact, Nokia was quite quick to jump and put the kibosh on such a rumour with Doug Dawson of Nokia Media Relations using his official Twitter account to deny the growing rumour that Nokia was looking at Android.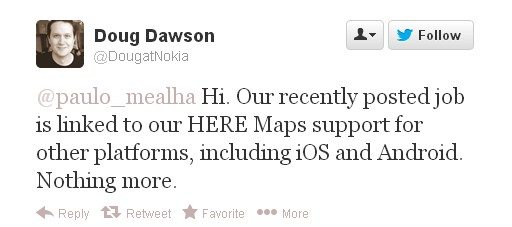 Turns out that Nokia wants that senior engineer with Linux experience to work on a version of Nokia Here Maps app to get it to run on both the Android and iOS platforms, rather than working to deliver an Android based Nokia phone.
Thus it would appear that for now anyway, Nokia will not be working to deliver an Android smartphone. Of course that's not to say that the Finnish company will never consider bringing a Nokia Android handset to market, as there's really no reason why Nokia should only put out Windows Phone handsets unless Microsoft has them in a concrete and air tight deal of course.
As it stands though, Nokia is concentrating on getting those Windows Phone Lumia devices out there, which seem to be holding their own against rival devices for now. However of course there is a rumour that Microsoft might be working on delivering a Surface smartphone to the mobile space at some point in the future, and if Microsoft can deliver their own Surface phone then there's no reason why Nokia couldn't deliver a Nokia Android phone at a later date.
One thing is for sure though, this probably wont be the last rumour we hear about Nokia possibly taking up Android.