Google Maps for iOS & iPhone 5 released
Back in September at the Apple keynote speech for the new version of the iPhone the company confirmed previous rumours that they would be ditching Google Maps in favour of their own in house Apple Maps offering. The new Maps application has since been met with numerous bugs and incorrect information leaving many users frustrated, but now we have some great news for you as Google Maps for iOS and the iPhone 5 has been released to the iTunes App Store.
There has been talk of a new Google Maps application being submitted to Apple for approval to the App Store for a number of months now, but many wondered if Apple would actually allow the new application onto its App Store and mobile hardware. Today though the new Google Maps application is available for users to download free of charge with some nice features.
The search engine giant has included voice guided turn by turn navigation along with Vector maps that don't require constant data downloads, which is something that Apple had requested in the past. Apple's own offering has caused some embarrassment to the company with CEO Tim Cook reportedly making some changes to the staff that were responsible for it the application.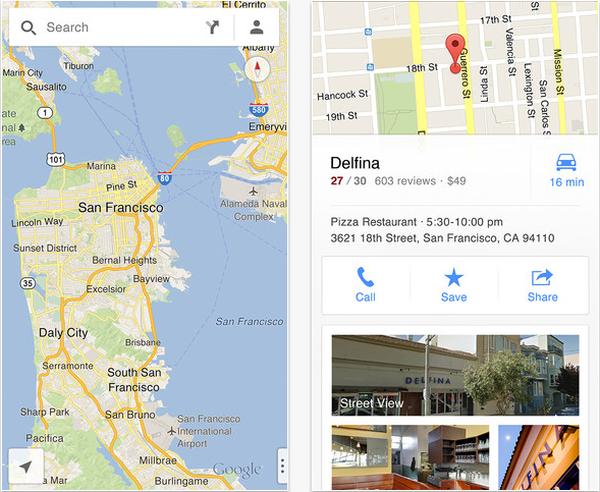 This new app from Google will obviously not be the default map solution application pre-installed onto iOS hardware, but users will be pleased that they can now easily download and install the alternative option themselves.
Google Maps also has features that Apple's own app doesn't such as public transport directions, and other features include the likes of Street View and the ability to find out great places to eat, shop, and more all with ratings and reviews.
The Google Maps app for iOS has a newly designed interface making it easier to use, and users can sync their searches between their PC and mobile device. You can find directions by foot, subway, train or bus so you will never get lost again.
Users can now use gestures to search a map as well as browsing results thanks to the enhanced Google Maps application. Currently there is no iPad specific version of the app and it is compatible with the iPhone 3GS and later, iPod Touch 3G and later, and the iPad running iOS 5.1 or later.
To find out more and to download Google Maps head over to the App Store. Are you going to download Google Maps for iOS?