Nokia Lumia 820 video shows off mystery Juggernaut
A few days back it came to light that Nokia could possibly have a bigger Lumia smartphone up their sleeve, with a couple of images of the prototype handset known as the Juggernaut Semaphore hitting the net waves. All we could tell about this mystery handset was that it was a rather large device that looked to be running Windows Phone 8, albeit sporting the old style Windows Phone logo and home button.
Now a video has popped up of the Nokia Lumia 820, which actually shows off this mystery Juggernaut Semaphore handset comparing the two smartphones side by side so we get to judge just how much bigger Nokia could be going with this Juggernaut handset.
Naturally we have embedded that video below for our readers viewing consideration courtesy of WPcentral, and apparently the footage was posted by Igor Shastitko of Microsoft Ukraine. In the video, which was posted a couple of weeks ago we get to see some new Windows Phone 8 features.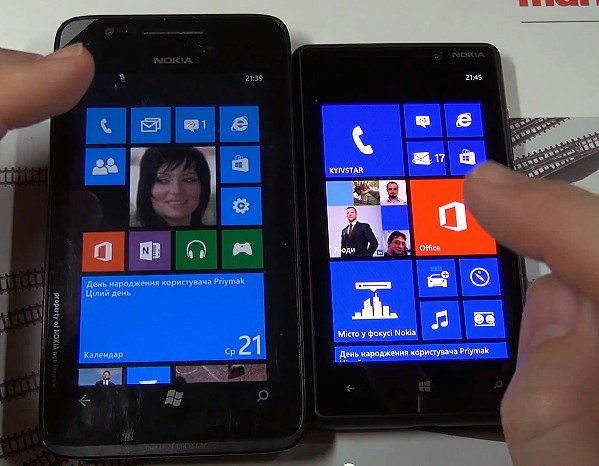 However, when you reach the 8:15 mark, another device is slipped next to the Nokia Lumia 820, which is said to be the Juggernaut Semaphore handset with the device still sporting that old style Windows Phone logo as seen in the previously leaked images.
Have to say that the Juggernaut is definitely bigger than the Nokia Lumia 820 with its 4.3-inch display, and looks to be somewhere around a 4.7-inch display smartphone, which could be the first bit of proof that Nokia could be going large with their handsets just like rivals Samsung and HTC.
However, as the resolution of the Juggernaut Semaphore is 800 x 480, it diminishes that 4.7-inch touch screen somewhat when you consider Windows Phone 8 devices can actually do 720 or 768 resolution, which would probably not make the Juggernaut all that interesting for some.
So will Nokia be possibly pushing out the big old Juggernaut Semaphore at some point in the future? Well apparently not, as according to the report, a translation of the video claims that the Juggernaut Semaphore is actually the Nokia Lumia 820 prototype in disguise, and thus this particular big boy will never see the light of day in the public space.
So there you have it, if you were hoping Nokia was going to deliver a bigger Lumia smartphone at some point in the future, you will be disappointed for now anyway, because as they say, never say never…enjoy the footage.