Kitsound BoomBar Bluetooth Speaker Hands-on Review
We get all sorts of products sent to us and today we would like to shout out about the 'Kitsound BoomBar Bluetooth Speaker', we will not whisper and we will not be an echo, because this is all about sound and power so please sit up and take note of our hands-on review. When we go on holiday we all want to travel light, when sitting in the garden we need something quick and easy to pull out so that we can all listen to music, please read on to see what we think of this cool looking portable speaker.
There are so many speakers that you can buy nowadays some expensive, some very cheap and many in the middle when it comes to the price, if you like the sound of a price that is right in the middle and what we class as a budget audio device then please read on about the Kitsound BoomBar Bluetooth Speaker.
Introduction
The Kitsound BoomBar is a cool looking Bluetooth wireless stereo speaker that allows the user to connect smartphones, tablets, MP3 devices and so much more wirelessly without any hassles. You can even connect to your laptop or desktop PC using the cable included. The iPhone 5 already has an impressive sound but like many smartphones they are just not powerful enough and this is where wireless speakers come into play.
In the Box
Portable Wireless Speaker, Plastic stand, Carry Case, Charging cable and 3.5mm to 3.5mm double end cable for connecting to laptops and PC's.
The Key Features
Lightweight portable Bluetooth speaker, In-Built Microphone for hands free conference calls, High quality soft-touch finish, Up to 10 metre working range, Up to 10 hour playing time, High Quality sound, Carry case for added protection, and Stand function.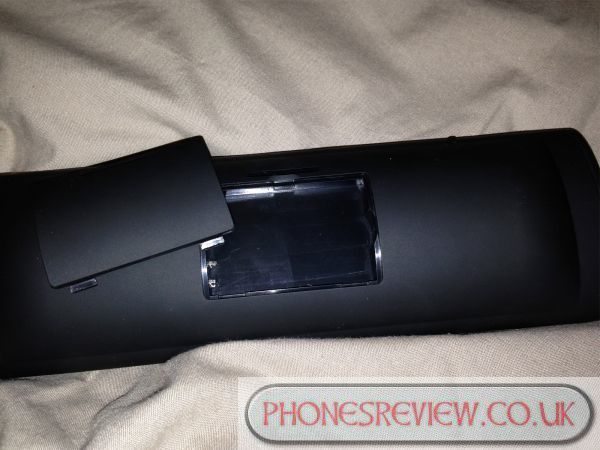 First Impressions & Design
Just looking at it one would think it would not sound that good, but the overall slim curved design looks awesome. One of the main issues when choosing a portable speaker is how you can travel about and leave it lying around without it getting damaged, we can say thanks to the carry case it comes with you need not worry at all because the case itself is sturdy and built with quality in mind.
The Positives
The sound is very good indeed, ok you will not get the super bass sound like you can expect from a Bose wireless system but then you will not have to pay the price for the BoomBar like you would a Bose system. The sound is pure and crisp, and very good indeed for listening to music outdoors; the price is also very good at around £35. The rechargeable battery looks like one of those you would find in a smartphone, which means they will be very easy to replace.
The Negatives
On full volume the Kitsound Boombar will distort, nothing too bad but yes it loses its crisp quality, but then you would expect that with such a small budget friendly portable speaker system.
Main Specifications
Bluetooth Version: V2.1 EDR, Output: 2 x 2w @ 85db SNR, Working Distance 10 metres, Playing Time: 10 hours and Charging time: 3 hours.
Phones Review Overall Summary
We have reviewed the Logic 3 i-Station TTV Rotate speaker dock and we have to say that the Kitsound BoomBar is far better on all levels, and in that we mean price, looks and even sound. Pairing devices with the BoomBar is very easy indeed and offers a rich sound, ok not the top bass most users want but good enough and well worth the money.
This speaker does not only play your music or video sounds, you can also take calls and speak to the person on the other end thanks to the built in mic, it is a great little speakerphone. It comes with a free carry case so you need not worry about getting it dirty or damaged, this is a great little buy.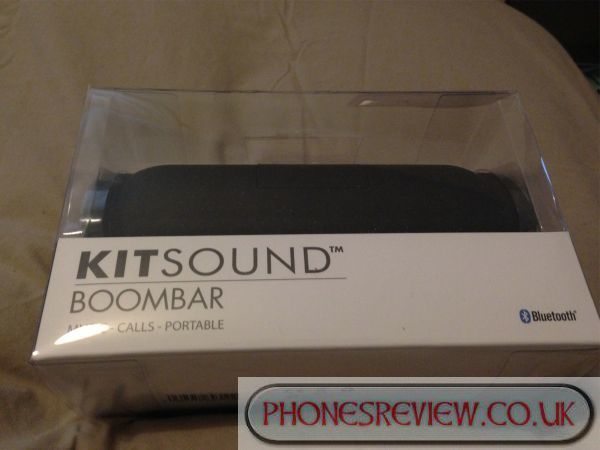 Where to Buy and Price
You can find the Kitsound Boonbar online for around £35 via sites such as Amazon, Totally Gadgets and so many more. Please do visit this Google Search page and choose the right online store that suits you, there are plenty to choose from.
MORE HANDS-ON PHOTOS