HTC One L and Legend 5 Jelly Bean Concepts
HTC is currently trying to play catch up in the smartphone world after seeing its market share slip a little away from the likes of Samsung and Apple, but towards the end of last year and in the coming months the company looks to change this with some nice new hardware. In the meantime though we have the HTC One L and Legend 5 Jelly Bean concepts for you.
Handset wise we have heard a lot about an upcoming handset that is being called the M7 from HTC, but in the meantime some clever designers have come up with some stunning looking concept smartphones from the company.
The first one we have for you is what is being called the HTC One L that can be seen below, and the design features a 4.7-inch True HD touchscreen display that is powered by a quad core processor clocked at 1.7GHz. This is paired with 2GB of RAM and an impressive 64GB of on board storage, while camera wise there is an eight megapixel rear camera with a two megapixel shooter around the front.
There is also Beats Audio enhancements and Clear Voice technology, and the handset is based running the Android 4.1 Jelly Bean operating system with the HTC Sense 4.5 Android overlay. You would have thought though given the specs the handset would run Android 4.2 Jelly Bean with HTC Sense 5.0.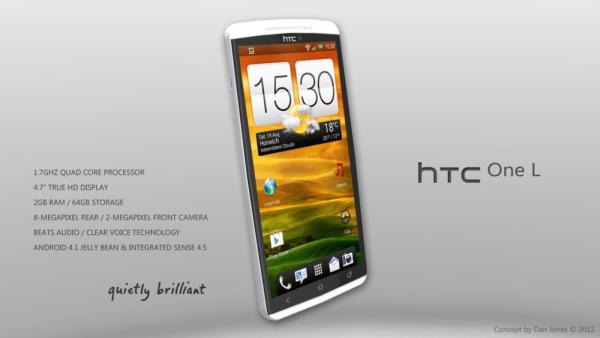 The designer of the handset has stated he placed the camera in the centre of the device so it would be easier for users to take snaps in landscape mode. Meanwhile another HTC concept we have for you is the Legend 5 courtesy of HTC Concepts and is called the Legend 5.
It features a 5-inch Full HD LCD 3 display powered by the recently announced Nvidia Tegra 4 processor clocked at 1.9GHz. Providing the juice is a 4,000 mAh battery unit and you also have the usual Beats Audio enhancements and other HTC add-ons.
The concept uses the Android 4.2.1 Jelly Bean operating system with the HTC Sense 5 Android overlay, and the site has provided a video showing the HTC Sense 5.0 concept lockscreen that you can see below. Camera wise the concept features a 13MP rear shooter with a 2.9MP unit on the front with Full HD capture.
Do you like the look of these HTC concept smartphones?