Nokia Lumia 999 poses for photoshoot
We love concepts and nine times out of ten they are just that and never become reality, so we would love to start some sort of comments petition to get the Nokia Lumia 999 onto the production line. Maybe we should go knocking on Nokia's door and say to them that here is a stunning concept idea that could become the real deal, there is nothing to technical or too high on the specs front that could not make this smartphone hit the mobile market.
Back on January 7th we already blessed our readers with the Nokia Lumia X and the Nokia Lumia 999, but there was only one photo available showing the 999 in all its glory. We can now reveal more pictures thanks to the Phone Designer Facebook page, take a look below this article and click on the photos to enlarge them.
The photo and details we mentioned last week was from designer Jonas Daehnert and main features on the Nokia Lumia 999 are to include a 4.3-inch display, a black and white interface just like you would see on the LG Prada 3.0. The Lumia 999 is one of those phones you have to keep looking at, the aluminium casing strikes the eye with glory as so does the beautiful buttons and profile.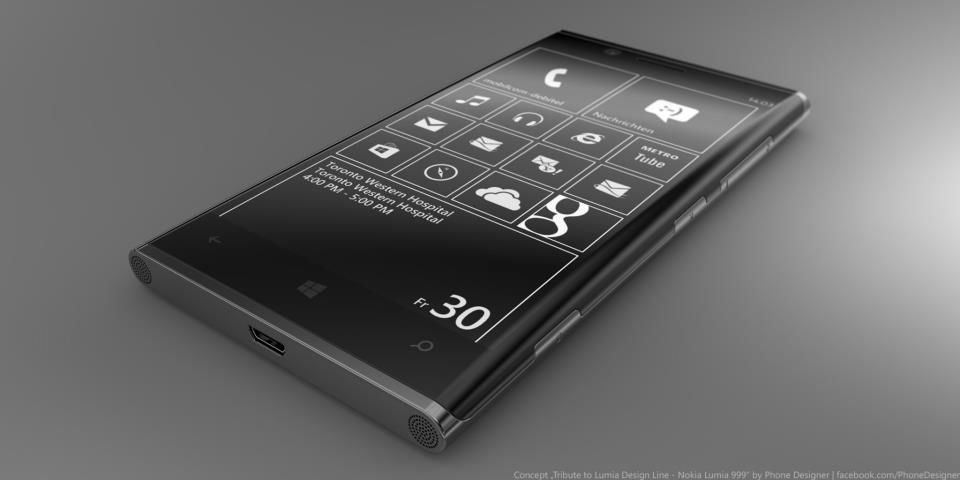 Specifications the Nokia Lumia 999 could have without going over the top includes a 12MP Pureview camera on the rear, would like to see an 8MP on the front with HD recording, 2500 mAh battery, 1GB of RAM and for storage options we would say two version at 16GB and 32GB would be reasonable.
So please join us and start the comment petition, if you would like to see the Nokia Lumia 999 become a reality, please do comment below. Would you like to own the Lumia 999?