HTC M7 pre MWC launch at Feb 19 dedicated event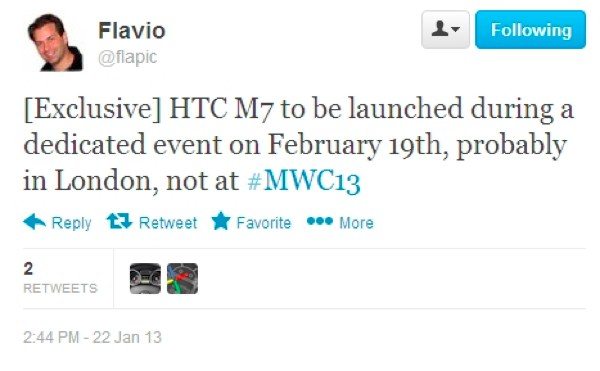 Among the many impressive upcoming smartphones is the HTC M7 and this one looks set to be a real flyer when it hits the shelves. It's due for release in Q1 and previously we had expected that it was likely to be announced at MWC 2013 running from February 25 to 28 and hopefully released shortly afterwards. However news today is that the HTC M7 could be announced at a separate event before MWC so a release could be earlier than we anticipated.
The HTC M7 has some truly impressive rumored specs including a 4.7-inch full HD display, 1.7GHz quad-core processor, 2GB of RAM and a whopping 13-megapixel rear camera. It will launch running Android Jelly Bean and so it's not surprising that the M7 is creating a lot of attention right now. Just yesterday we told how US carriers looked likely to include Verizon, AT&T and Sprint and that T-Mobile could also be joining the fray, making it a clean sweep of the four major US carriers.
Now an Italian inside source has posted a tweet to say that rather than the HTC M7 being introduced at MWC it will be announced at a launch event to take place in London on February 19. If this is accurate then a release could be less than a month away but of course at this stage we have no way of verifying this information. We can only hope that the design of the HTC M7 matches the high-grade specs but haven't yet seen any images that we know are authentic.
If you're one of the many consumers waiting to hear more about the HTC M7 you may also be interested in our comparison of the M7 vs. the iPhone 6. We'll be following all the news and future developments about this notable handset so check back with us for more.
In the meantime we'd like to hear if you are tempted by the sound of what the HTC M7 has to offer? Maybe you are going to choose between this and one of the other many upcoming Android phones such as the Galaxy S4? Let us know with your comments.
Source: Unwired View