Samsung Galaxy S4 purported image shows April 22 date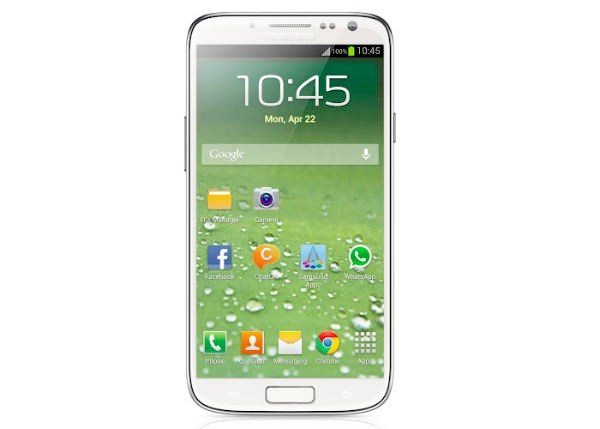 Many consumers are already looking forward to the Samsung Galaxy S4 (S IV) in the hugely successful line of Galaxy S phones. A release date is still unclear although for some months we have been hearing of a likely spring release but today we have some more news on a possible release date plus a purported image of the Galaxy S4. The image cannot be verified yet but is more convincing than some previous photos we've seen that claimed to be the Galaxy S4.
The hype surrounding this year's Galaxy S phone seems to be greater than ever and only yesterday we told of rumors regarding a Samsung Unpacked Event in the US on March 22 where it could be unveiled along with claims that the Galaxy S4 could release around April 15. All of this is unsubstantiated so far though and today some more details have come to light that seem to dispute this.
A Picasa image that has been sitting waiting to be spotted and looks to be a leaked press shot has finally been unearthed and although we've seen leaked images of the Galaxy S4 before this one does look more credible than others and also includes the correct model number GT-I9500. It is reminiscent of the current Galaxy S3 with what appears to be a thinner bezel and the corners of the device are less rounded giving the phone a somewhat squarer look. Another difference is the home button, which for the alleged Galaxy S4 looks larger.
What's really intriguing is that the date shown on the handset in the photo is April 22 (see image above). When the official press image of the Galaxy S3 appeared last year the date showing on the handset was May 3 according to Android Authority. This eventually turned out to be the date that the Galaxy S3 was introduced to the world and so if this press image of the Galaxy S4 is the real deal it suggests that April 22 could be the date of the press event to announce the phone. This contradicts yesterday's news of an event for the Galaxy S4 to be held on March 22.
Of course thinking about it there is a possibility that the big reveal of the Galaxy S4 could still be at an event on March 22 and that this time round the April 22 date shown on the purported press image of the Galaxy S4 could be a release date instead of an announcement date. After all, it's not too far away from that speculated April 15 release date that we mentioned earlier so it's certainly possible. For now though we have to remember that this is conjecture at this stage and we still don't know if the supposed press image of the Galaxy S4 is genuine.
One more snippet of information on the Galaxy S4 has just come to our attention courtesy of DigiTimes, which says that the Galaxy S4 could well have new small-sized AMOLED display panels using different pixel layouts. Sources say that if these are used the Galaxy S4 could have one of the most superior resolutions available with a pixel density of 440ppi and that this can be achieved by replacing the standard side-by-side pixel layout with a layout formed from hexagon and diamond-shaped pixels. As with most leaks of these kinds this is unconfirmed so far but it will be interesting to see if this turns out to be genuine.
As far as the purported Galaxy S4 press image goes we'll now just have to wait and see and we probably won't know more until Samsung sends out the invitations for the event. We shall be following this with interest and will bring you the news as we hear it. Are you one of the many who are waiting for news on the Galaxy S4? Do you think this image could be the genuine article and if so do you like what you see? Let us know with your comments.