LG MWC 2013 brainteaser video, breakthrough coming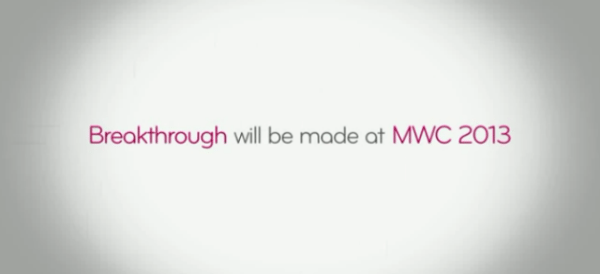 LG is another company that is looking to gain a bigger share of the smartphone market this year, and the Android platform is playing a big part of this. The company has been busy teasing the public with its plans for the upcoming MWC 2013 event, and a LG brainteaser video is promising a breakthrough is coming.
The company has been busy introducing the world to the LG Optimus G Pro that was recently announced for Japan, but it seems it is planning something special in the coming weeks. They recently teased a new series is coming via its Facebook page, but now it has released a teaser video that can be seen below suggesting smartphone fans have something good to look forward to.
They say in the video that a 'breakthrough will be made at MWC 2013', with the words stylish, speedy, powerful, and professional among others shown. It ends by saying 'To Make a World of Difference', and to join them to see the company's 'unlimited possibilities' at the event later this month.
The company in the past has said it will be revealing a number of new devices throughout the year, and the Android smartphone market is getting ever more crowded with manufacturers seemingly needing to offer something special to tempt consumers to their products.
Will you be looking to see what LG has to offer this year or have you already decided which smartphone you will be laying your hard earned cash out on?