Apple iPhone 5 vs Sony Xperia Z, specs speak out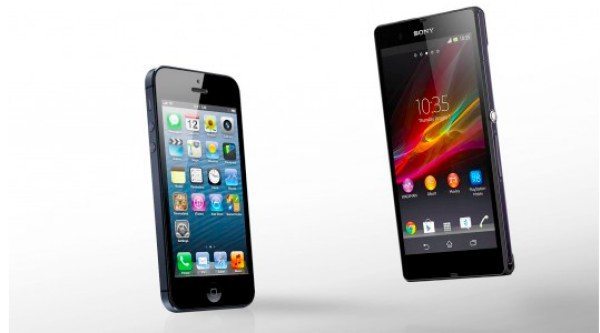 We enjoy bringing readers comparisons of two of the most talked about phones every now and then and so today we have for you the Apple iPhone 5 vs. Sony Xperia Z where the specs will speak for themselves. The iPhone 5 released in September last year, receiving high praise and the Xperia Z is to release later this month and is currently attracting a lot of attention as a high-end device that's also sleek and stylish.
We should start by saying that the iPhone 5 is available across the world and on multiple carriers. The Sony Xperia Z is to release in the UK, the rest of Europe and some other regions such as Australia this month. It's then to due to launch in some parts of Asia in March and it will also come to the US although a release timeframe has not yet been revealed.
Although we cannot compare every single spec and feature we'll run you through the key specs of each device in a bid to help you decide which one might be best for you if you're in the market for a new smartphone. Of course as the iPhone 5 is an iOS device and the Xperia Z is an Android device your choice may be decided simply by your preference of operating system. For those of you with an open mind about OS though, then check out the following details.
Processor
The iPhone 5 has a 1.2GHz Apple A6 dual-core processor while the Xperia Z steps up to a 1.5GHz Qualcomm quad-core Krait processor.
Display
The famed Retina display is a feature of the iPhone 5. It has a 4-inch IPS LCD screen with resolution of 1136 x 640 and ppi of 326. The Xperia Z on the other hand has a 5-inch TFT full HD display with resolution of 1920 x 1080 and a whopping 441ppi.
RAM and Storage
The iPhone 5 has 1GB of RAM and either 16, 32 or 64GB of internal storage, sadly non-expandable. The Xperia Z has 2GB of RAM and 16GB of internal storage, expandable to 32GB via microSD.
Camera Set-up
You'll find an 8-megapixel rear camera on the iPhone 5 with autofocus, LED flash, simultaneous HD image and video recording, face detection, geo-tagging, panorama, touch focus and HDR. It's capable of 1080p video capture with LED video light, geo-tagging and video stabilization and it also totes a 1.2-megapixel front-facing camera. The Xperia Z has a 13.1-megapixel rear camera with autofocus, LED flash, face detection, geo-tagging, image stabilization, touch focus, panorama and HDR. It also has 1080p video capture with continuous autofocus, video light, stabilizer and HDR plus a 2.2-megapixel front-facing camera.
Battery
A non-removable 1440 mAh battery features for the iPhone 5 whereas the Xperia Z packs a 2330 mAh battery, also non-removable.
Operating System
The iPhone 5 runs Android iOS 6.0, upgradable now to iOS 6.1. Meanwhile the Xperia Z will launch running Android 4.1.2 Jelly Bean, upgradable to 4.2 with the Timescape UI.
Dimensions, weight, color options
The iPhone 5 measures 123.8 mm x 58.6 mm x 7.6mm and weighs only 112g. It comes in two colors, black with slate or white with silver. The Xperia Z measures 139 mm x 71 mm x 7.9mm and weighs 146g. There are three color options, black, white or purple.
Price
Obviously prices vary from region to region but as an example we'll give you some US pricing. The iPhone 5 starts at $199 for the 16GB model going up to $299 and $399 respectively for the 32 or 64GB models. That's on the usual two-year contract. If you want to purchase the iPhone 5 unlocked without a contract it is available through Apple for $649, $749 or $849 depending on storage. No US pricing has been announced yet for the Xperia Z but it's estimated that it will be around the same $199 price with a two-year contract and unlocked at around $600 to $650.
From the evidence we can see that these are both phones that make a great impact. If you prefer a smaller, lighter phone then the iPhone 5 might be a good choice for you. The Xperia Z though has the edge on processor, and on paper the display has a higher resolution and ppi, although many smartphone enthusiasts will tell you that's not necessarily the full picture. Similarly with the cameras, the Xperia Z has a 13-megapixel rear camera as opposed to the 8-megapixels of the iPhone 5's camera but many will point to the fact that megapixels are not everything.
Also we should point out that the Xperia Z is water-resistant and dust-resistant and also supports NFC, which the iPhone 5 lacks. Both are extremely good-looking smartphones and the designs may also sway your decision but that's very much a personal preference. This sounds like we're sitting on the fence but ultimately it is difficult to choose between the simple to use iPhone 5 with its attention to detail and the Xperia Z that looks a better option for multimedia use and is a phone with more options to customize.
We'd like to hear from you with your thoughts on these two smartphones. If you're intending to purchase one, which will it be and why?