Sony Xperia Z demo units at Phones 4U in UK from today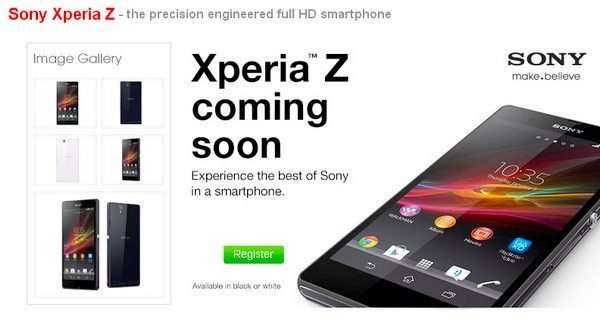 We've been writing plenty of posts about a very impressive upcoming smartphone recently, the Sony Xperia Z. This notable Android handset with quad-core processor and packing a 13-megapixel camera has top-notch features and looks extremely stylish. The good news is that Phones 4U in the UK will have demo units of the Xperia Z ahead of the phone's release at the end of this month and we think this will prompt plenty of people to head to the shops to have a good look at the phone before it officially hits the shelves.
The Sony Xperia Z demo units will be in more than 300 Phones 4U stores from today Friday February 15 and they are live devices so it's not a question of just taking a look at a blank screen. The phone will actually be available for consumers to buy on a range of networks from February 28 and will be free on a two-year contract costing £36 per month at Phones 4U. As an extra pleasant surprise the first 1000 pre-order customers will receive Sony MDR-1R headphones and by themselves these usually cost £299! You can pre-order the Xperia Z through Phones 4U right now.
A Phones 4U press release says that it is the only independent retailer that will be offering the live devices of the Xperia Z to preview and that Phones 4U staff will be able to give you an in-depth walkthrough of the phone. There will no doubt be plenty of people who have the Xperia Z pegged as their next smartphone so it's a great opportunity to be able to make an informed decision before you purchase.
We'll give you a brief rundown on specs to remind you that this would be a very decent smartphone to consider. The Xperia Z has a 1.5GHz Qualcomm Snapdragon S4 Pro quad-core processor, 5-inch full HD display with stunning 441 ppi, 2GB of RAM and 16GB of internal storage, expandable via microSD to 32GB. There's also a 13-megapixel rear camera with EXMOR RS sensor and 1080p video capture as well as a 2.2-megapixel front facing camera, a 2330 mAh battery and it runs Android 4.1.2 Jelly Bean, upgradable to 4.2. The Xperia Z is dust-resistant and water-resistant too with IP55 and IP57 ratings.
You may also be interested in our comparison of the Samsung Galaxy S3 vs. the Sony Xperia Z for more detail. We'd really like to hear what readers think of the Xperia Z. Is this a phone you're considering buying? Will you be hotfooting it down to your nearest Phones 4U to take a proper look? Let us know with your comments.