Kickstarter Epiphany onE Puck coaster will charge your smartphone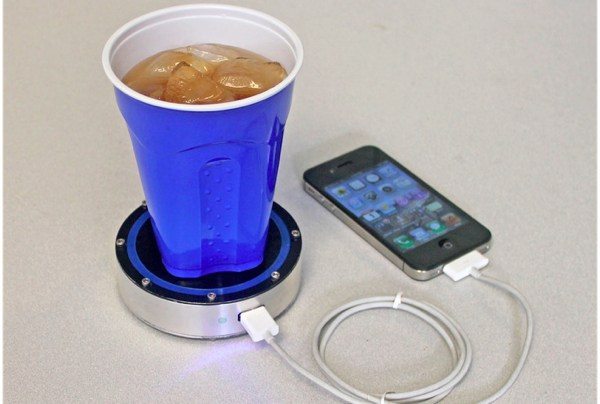 As well as bringing you news on smartphones and tablets we also like to bring readers details of new innovative gadgets and accessories for the mobile industry. We often bring you news about Kickstarter projects where people can pitch their ideas for new products and raise funding to put them into production. Today we have some information about one of the most innovative Kickstarter ideas we've seen so far, the Epiphany onE Puck coaster, a device that will be able to charge your smartphone.
This idea is strictly from the "why didn't anyone think of that before" school of thought as it seems so simple and yet such a clever concept. The onE Puck coaster from Epiphany Labs can use "heat disparities" from either hot or cold drinks to charge up your phone or other device. The user simply places their beverage on the coaster, a cold drink on the blue side or hot drink on the red side, plugs their smartphone into the coaster and hey presto! No other wires or batteries are necessary, instead the heat disparities are turned into a charging engine using a compact stirling engine.
The Epiphany onE Puck coaster will charge any Android phone, iPhone or iPod or other device that uses a USB charger drawing 1000 mA or less, so it cannot be used to charge laptops or tablets. Nevertheless we think this is a great idea, stunning in its seeming simplicity and something that many people would make use of. Charging speed varies according to the temperature of the beverage but under the optimum conditions it can charge at usual speeds.
You can find more about this idea at the source link below. At the time of writing it has received funding of $86,460 from 774 backers from a required total of $100,000 on Kickstarter and there's still 48 days to go so it looks as though it will easily pass its funding requirements. You can also view a video about the project below this story if you want to find out more.
We'd like to know what you think of this Kickstarter project? Is this something that you envisage will be widely used in the future? Maybe you'll become a backer yourself? Why not send your comments to let us know.
Source: Kickstarter