Mauz iPhone gadget with Minority Report interface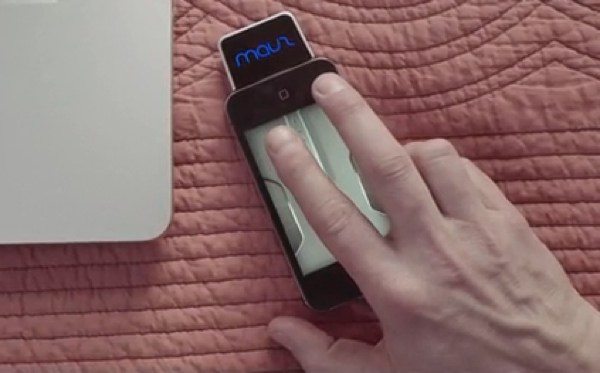 For those of you who've never heard of Kickstarter it's a resourceful website that gives ingenious people the chance to promote their ideas for new products and raise funds to get them into production. We've seen some great creations come from the platform and today we have another Kickstarter project for you to digest and this time it's the Mauz iPhone gadget with Minority Report interface.
This is something that should intrigue many people, especially iPhone users as in a nutshell the Mauz is a pointing device that is smartphone-enabled and can be used with gestures, visual clues and your phone to control nearby computers. So far, over $21,000 has been raised by 419 backers for the Mauz. However total funding needed is $150,000 and there's another 31 days to go before the deadline is up on March 8, so if you like the idea you may want to back this project.
The Mauz is a kinetic three-dimensional computer mouse that connects to your smartphone and interacts with motion gesture and visual gesture programs. It uses Human Interface Device (HID) technology and the Mauz app is automatically prompted once the user connects the Mauz to their smartphone. You can see a video below this story that shows you more about the Mauz.
It uses right click, left click and scroll functions and a simple tilt of the phone enables the app to switch from computer mouse to TouchPad interface. It's an innovative device and if you want to see more or to back the project head to Kickstarter here where you can also see how the visual and gesture controls work and details of shortkeys.
You may also be interested in some more of our recent Kickstarter project articles such as the Audojo iPad Case Controller for gaming and an iPhone and Android Charge Card charger. Let us know what you think of the Mauz iPhone gadget? Do you think this idea is one that should come to production? Let us have your comments.