HTC One official specs strike gold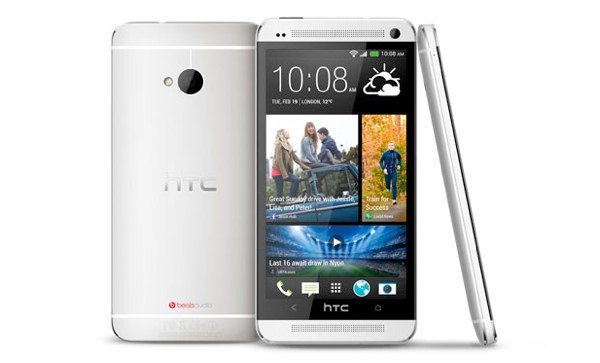 We were all expecting the HTC One to be unveiled today at an HTC press event and lo and behold that is what just happened. We always suspected that the HTC One (formerly dubbed the HTC M7) would be a fantastic device going on leaked specs and rumors and now we have the HTC One official specs we don't think we're going overboard in saying that this time HTC looks to have struck gold. It won't be too much longer before you can get your hands on it either as it will release in March. Read on for more details and specs.
The specifications of the HTC One have turned out to be very much what we expected and are pretty dazzling, plus the phone looks sleek and beautiful too. We think many people are going to have their heads turned by the HTC One and can't wait to see how it sells on release. It will launch running the Android 4.1.2 Jelly Bean operating system with HTC Sense 5 and is powered by a 1.7GHz Qualcomm Snapdragon 600 quad-core processor. The HTC One has a 4.7-inch Super LCD 1080p display with amazing 468ppi and featuring Gorilla Glass 2.
Other specs for the HTC One include 2GB of RAM and 32 or 64GB of internal storage but alas, this is non-expandable via microSD (just about our only criticism). There's also WiFi a/ac/b/g/n, Bluetooth 4.0, NFC, 2300 mAh battery and dual stereo speakers featuring HTC BoomSound. Design-wise the phone certainly looks to have premium quality with a zero-gap aluminum unibody and yet manages to avoid being too heavy, weighing in at 143g. Dimensions are 137.4mm x 68.2mm x 9.3mm.
Something that will interest many readers is that it has what HTC has dubbed a custom UltraPixel camera and you may be surprised to hear this has a 4-megapixel sensor rather than something more impressive-sounding. However we have often discussed the fact that megapixels aren't everything and HTC says that every pixel of its rear camera can gather 300% more light than other smartphone sensors. It has a f/2.0 lens, optical image stabilization, ImageChip 2 for HDR and also 1080p and 60fps video. HTC hasn't stopped there either as a new Zoe service has been introduced using HTC's dedicated site, where users can capture and share videos. There's also a 2.1-megapixel front-facing camera with 1080p video capture and 88-degree wide-angle lens.
Another feature is the HTC BlinkFeed homescreen, a personal live stream and another radical move to make the HTC One multimedia-friendly. The HTC One will come in silver or black color options and in HSPA and LTE models and will release globally in more than 80 regions or countries across 185 mobile operators and retailers from March, according to HTC's press release. There's no news on pricing yet for the HTC One but of course we shall pass on those details as soon as we hear them.
From what we can see the HTC One is a highly desirable device and could really give the upcoming Samsung Galaxy S4 and Apple iPhone 5S a run for their money, plus it has the benefit of a head start. We'd like to know what you think though.
Do you admire the HTC One and have already decided to purchase it once it becomes available? Maybe you'll wait until the introduction of the Galaxy S4, rumored to take place at an event in March, to see how that compares? Do you think that HTC could have struck gold with this latest flagship device? Send your comments as we'd love to hear your opinions.