iPad 5 professed case redesigned for 9.7-inches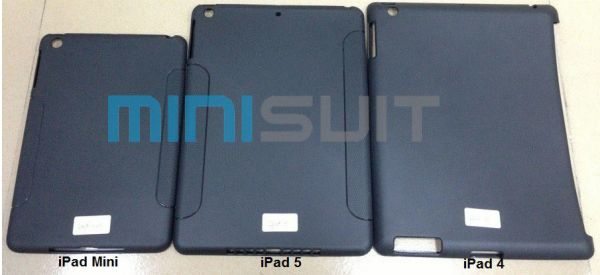 We received an email late last night from Product Manager Steven W via MiniSuit, Inc showing the iPad 5 professed case redesigned for 9.7-inches, the photo below also shows cases for the iPad Mini and iPad 4.
We get so many emails and this time round Phones Review received reliable data for the new iPad 5, which apparently is set to release in June this year. The data includes specifications that enabled MiniSuit to design the perfect case for the new tablet.
We cannot take this as solid evidence but the purported photo above does seem to point towards the Apple iPad, but just by looking at the case it looks like it has adopted the design of the iPad mini making the iPad 5 narrower but with a 9.7-inch display.
Would you like to see the iPad 5 adopt the iPad mini design? This surely means that the bezel would be narrower than the current iPad 4, and the edges of the case above points towards squarer edges. If you look at the bottom of the iPad 5 case you will see that there is a longer cut-out than the iPad 4 case, could we see better speakers in stereo?
We do not have any more information on this at the moment; all we had was a photo. Please let us know what you think of the picture above and whilst we wait for more information on the next generation Apple tablet let us know what specs you would like to see on the iPad 5? We are looking forward to bringing you the iPad 5 review once it releases.
The original image can be seen here. Please do read our article we published yesterday covering the iPad 5 Q3 takeoff with complete revamp.