Nokia Lumia 520 & 720 to assault midrange market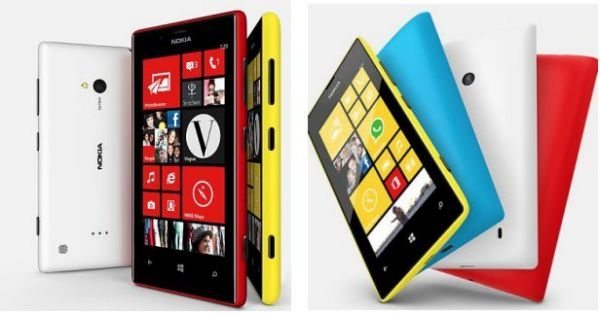 Nokia has kicked off at MWC 2013 today revealing the new Nokia Lumia 520 and 720, which should assault the midrange market. The Mobile World Congress in Barcelona will be the place where all the latest technologies will be announced and we will try and cover as much as we can, today from the Nokia front we will provide a few details of the new Lumia smartphones.
We will keep this short because we will be giving your greater details covering both Nokia Lumia 520 and 720 later in the day as well as much more via MWC 2013.
Both 520 and 720 use a dual-core 1 GHz Snapdragon processor and will run on the Windows Phone 8 operating system, yes the one with Windows Live Tiles. They will come featuring the norm such as Nokia Maps, Drive and much more.
The Nokia Lumia 520
Key specs will include 512 MB of RAM, a 4-inch WVGA IPS LCD, super sensitive touchscreen, 5-megapixel camera on the rear as well as 720p video capture. It will offer 9.6 hours 3G-talk time max, 360 hours 3G standby time max and 61 hours music playback time max.
The handset weighs 124 grams and is only 9.9 mm thick. The 520 will release Q2 and pricing will start at $183 with China, then it will release for Europe, Asia and T-Mobile in the US soon after. For full in-depth information please watch the video below and read the official Nokia page here.
Nokia Lumia 720
This phone also has a dual-core 1 GHz Snapdragon processor; other key specs include a 4.3-inch ClearBlack WVGA display with 800 x 480 resolution and super sensitive touch. This is a great screen because it will work with nails and gloves.
Other specifications include 512 MB of RAM, 2000 mAh battery, NFC, microSD card slot with up to 64 GB support, 8GB built-in storage weighs 128 grams and is 9mm thick. Users will have the option to choose wireless charging if they like, the Nokia Lumia 720 comes with a 6.7MP camera with Carl Zeiss optics and bright f/1.9 aperture.
The Lumia 720 will be available select European countries and Asia (TD-SCDMA version for China) this quarter starting at €249 (around $330). Not sure if this handset will release in the U.S, but we will let you know. There will be a choice of colours including cyan, red, yellow and magenta etc thanks to its exchangeable panels. For more info about the Nokia Lumia 720 please watch the video provided below, for more tech-specs visit here.
Both the Nokia Lumia 520 and 720 are for the mid-range market, will these phones be enough for Nokia to assault this market seeing as there are so many other choices?