Samsung Galaxy S4 with Knox puts pressure on iPhone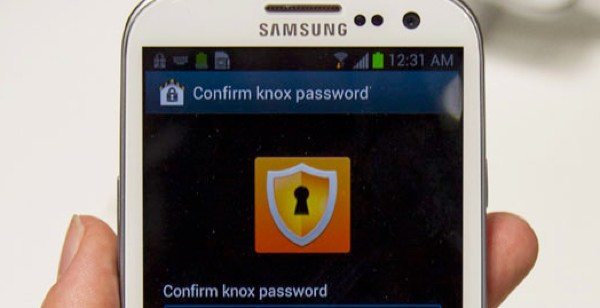 We've been posting articles about the Samsung Galaxy S4 (S IV) for some time now and although nothing is yet confirmed we've got a good idea of what to expect when this smartphone releases. The success of the Galaxy S4 is already assured as the Galaxy S line dominates the Android phone platform and its main rival is likely to be the next Apple iPhone, the iPhone 5S. Today we have news on the Samsung Galaxy S4 with Knox and this puts further pressure on the iPhone.
Many of you will already know that the massively-anticipated Samsung Unpacked event has now been confirmed for March 14 and this is where we expect to see the Galaxy S4 smartphone unveiled in the usual fanfare for big product launches. Now we hear that Samsung has come up with a new initiative dubbed KNOX, a security software solution that is likely to make Samsung phones more desirable to enterprise users.
Although it has not yet been confirmed that the Galaxy S4 will feature KNOX, it has been reported that this initiative will initially be available for some Galaxy phones during Q2 this year and that Samsung is considering it for the Galaxy S4. To be frank, we'd be amazed now if the Galaxy S4 doesn't appear with KNOX as it would be a surefire way to attract even more business customers, tempting them away from other brands that are popular with enterprise users such as Apple and BlackBerry.
KNOX is a solution that allows the device user to completely separate work and personal use. This means that the private use of a phone is controlled by the device user while the work use can be remotely managed by the company, if desired. The Samsung SAFE (SAmsung for Enterprise) program has developed KNOX and it's another step forward in Samsung's bid to grab more of the enterprise market, especially with BlackBerry a weakened force for the same market. It remains to be seen if BlackBerry's new BB10 operating system and devices running it can rejuvenate the BlackBerry platform.
In the U.S. Samsung achieves around 50% of Android phone sales so there is vast potential if it can plug-in to the business market more and this statistic could rocket if KNOX takes off. With Samsung intending to make it as easy as possible for IT departments to implement KNOX there's no reason to think that more businesses won't choose to switch to an Android Galaxy phone, such as of course, the Galaxy S4. Around two-thirds of smartphones purchased by consumers are Android handsets and so just imagine the potential if Samsung phones using the Android platform also attracted a larger share of the enterprise market.
There has certainly been some feeling among business users in the past that the Android platform was weaker in security than some of the other contenders but the KNOX initiative certainly looks set to wipe out that impression. The next iPhone release is disputed but either summer or fall looks likely as a timeframe while the price of the Galaxy S3 is already being cut before the Galaxy S4's arrival. The Galaxy S4 release date is likely to be announced at the March 14 event and we think an April launch is likely. If the Galaxy S4 does indeed arrive with KNOX then we think this could really put pressure on the iPhone 5S as not only will it attract more enterprise users but it's also likely that it will have a good head start on sales before the next iPhone even arrives. While we are waiting you may appreciate our Galaxy S4 vs. HTC One article.
We'd like to hear your thoughts on this. Are you waiting for the Galaxy S4 and if so are you a consumer or enterprise user? If your business currently uses another platform would KNOX be enough to make you consider using a Samsung Galaxy Android phone instead? Send your comments to let us know.
Source: ZDNet