Galaxy Note 2 vs Galaxy Note 8.0 in pocket size debate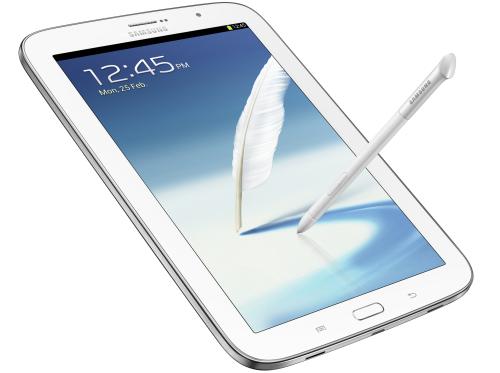 The release of the original Samsung Galaxy Note back in 2011 saw the birth of the phablet device which has been growing ever popular in recent times. The current model from Samsung continues to lead the way and today we are looking at the Galaxy Note 2 vs Galaxy Note 8.0, with big pockets needed.
You may think this is bit of a strange comparison as one is basically a large sized smartphone and the other a tablet PC, but the Galaxy Note 8.0 can also make calls just like a normal smartphone.
Display
The Galaxy Note 2 features a 5.5-inch Super AMOLED display with a resolution of 1280 x 720, while the larger Note has an 8-inch display with the same resolution, but with a lower 189ppi pixel density compared to the 266ppi of the Note 2.
Processor and Power
Under the hood the two devices share the same quad core processor that is clocked at 1.6GHz along with 2GB of RAM.
Storage
The Galaxy Note 2 comes in 16GB, 32GB, and 64GB storage options with the ability to expand this further by another 64GB via a microSD card, while the new kid on the block comes in either 32GB or 64GB options that again has the same expansion options as the Note 2.
Camera
The Note 2 comes equipped with an 8-megapixel rear facing shooter while around the front is a 1.9-megapixel unit, while the Note 8.0 has a 5-megapixel unit on the back with a 1.3-megapixel front facer.
Dimensions
Obviously this is where the biggest difference will be with the Note 8.0 measuring in at 210.8mm x 135.9mm x 7.95 mm and weighing 338grams, which compares to the Note 2 at 151.1mm x 80.5mm x 9.4mm and 183 grams.
Battery
Owners of the Galaxy Note 2 have praised its battery life from the 3,100 mAh unit, while the larger Note uses a 4,600 mAh battery pack.
The use of smaller sized tablet PCs is growing and it's not just down to price as holding a 10-inch device for a length of time can become tiresome, and the Note 8.0 also adds the option of being able to make phone calls as well.
There will be many though that are not bothered about making calls from a tablet PC especially the size of 8-inches, as you may feel pretty silly walking down the road with the Galaxy Note 8.0 held to your ear. Tablet PCs with a call option may become a growing trend though as Asus officially announced the FonePad yesterday.
Do you see the point of having calling features on a tablet PC?