HTC One Vodafone Pre-Orders & Price appear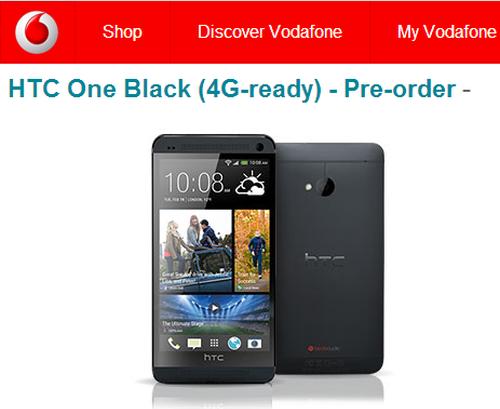 There are a lot of Android fans that are looking to pick up the new HTC One when it is released in the coming weeks, and now as we get closer to that release date there is news that carrier Vodafone has started taking pre-orders for the device as well as revealing pricing for the handset.
Last week we gave you some early pricing for the HTC One and now as we get closer to the availability of the handset more carriers are beginning pre-orders for the device. Yesterday we heard that Canadian carrier Rogers had started taking customers orders for the HTC One, and now it's the turn of UK carrier Vodafone.
The carrier has both the black and the stylish looking silver model available for free on contracts costing an eye watering £42 per month with a new two year contract. This provides customers the Red Data Plan that offers unlimited talk time and texts, as well as 2GB of data downloads.
If that is too expensive each month for you the £29 per month plan provides unlimited texts, 300 minutes of talk time, and only 250MB of data as well as you needing to pay £179 up front for the HTC One.
The £37 per month plan only needs an upfront payment of £69 for the handset, and for this you get unlimited texts and talk time minutes, along with a more respectable 1GB of data. These prices are for the 32GB version of the HTC One, and at the time of writing it doesn't seem that Vodafone are offering the 64GB model.
If you are getting the HTC One which carrier are you getting it from?
Source: Vodafone.