Real Racing 3 released on Android & iOS, early impressions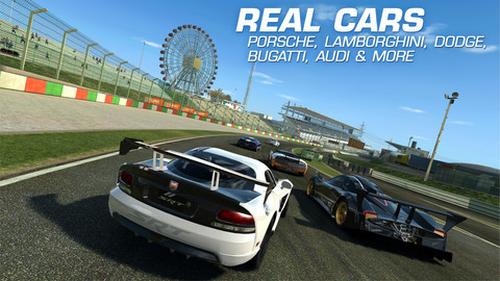 The tech inside our mobile devices coupled with beautiful displays have allowed console like games titles to become available on a number of devices, and that certainly can be said about Real Racing 3 that has been released on Android and iOS with early impressions being extremely positive.
Earlier this month the game was released in certain regions with everyone else promised to get hold of the game by the end of this month, and lo and behold the game is now available for Android and iOS users to enjoy. After going to the Google Play Store I found the game wasn't compatible with my Samsung Galaxy S3 currently, so then decided to install the game on my Nexus 7.
This took a while to complete but once installed the game opened to a demo run of the game before asking me to check the steering by tilting to the left and right, and then trying out the braking. You are then thrown straight into your first race as you take control of a Porsche.
The graphics look really good and the controls really easy to use with the braking done for you, and it has to be remembered I haven't had chance yet to have a play around with all the options of the game. You can easily drift the car around the corners swinging the back of it out, and from what I have seen of Real Racing 3 so far it really is a great game and ideal for anyone that love racing titles.
It has over 45 real cars at your disposal and there is a new feature called Time Shifted Multiplayer that sees you race against other people even if they are not online. There has been some criticism of the games freemium model from fans of the franchise, but other than that the game looks great.
To download yourself head over to the App Store or Google Play and check the demo video we have embedded below.
Will you be getting Real Racing 3?