Nexus 4 undervolting adds to battery performance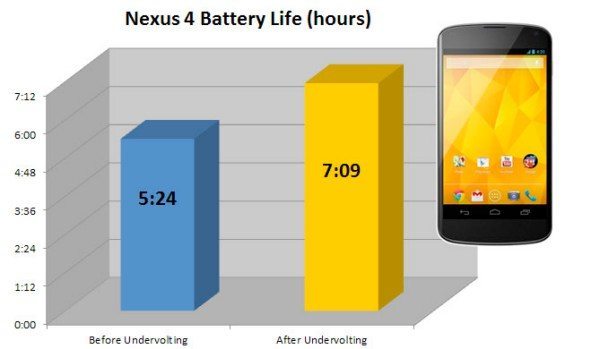 Google's Nexus 4 smartphone has been a massive success since its release and one of the reasons underpinning its popularity is that it offers a pure Google Android experience, perfect for the many enthusiasts who like to customize and dabble with their devices. If you are interested in adding to the battery performance of your Nexus 4 you may be interested in some details about undervolting your device, which could add hours to the battery life.
We know that for many of you part of the joy of owning a Nexus device lies in a spot of tinkering and in recent days we have informed readers about an AOKP Build 4 Jelly Bean 4.2.2 ROM for the Nexus 4 and also about Android 4.2.2. binaries now appearing so that the Nexus 4 now has fully official AOSP support. One of the main concerns many smartphone owners now have about their handsets are how long the battery will last and some customary methods of getting the best out of your battery life include screen dimming, disabling background data and switching off vibration.
However, there is also a process known as undervolting, which can lower your phone's power consumption without the loss of certain phone features and hence increase battery life. The following information about undervolting your Nexus 4 should only be carried out by those of you who really are used to tampering with your smartphones and know exactly what you are doing as this is described as a "major phone hack" that could potentially damage your phone and will void your warranty.
We therefore have to give you our usual Phones Review caution that we cannot recommend this procedure and that if you choose to use it then you do this at your own risk and are totally responsible if anything goes wrong. However as we always point out, we know we have a lot of Android device owning readers who enjoy this aspect of owning a smartphone and so like to pass on the relevant information.
The team over at Laptop Magazine have come up with this undervolting method that could add almost two hours of battery life to your Nexus 4. Step-by-step instructions to undervolt the phone can be found at the Laptop source link below with handy images showing you exactly what you should be able to see at each stage along the way. Directions are split into categories such as installing the toolkit and drivers, rooting the Nexus 4 and flashing a custom recovery image, flashing a custom kernel and results.
The results showed that in Quadrant tests the score of the Nexus 4 went up from 4712 before undervolting to 4778 afterwards while battery life increased from 5 hours 24 minutes to 7 hours and 9 minutes. This move is certainly worth considering then if the battery life of your Nexus 4 is an issue for you. We'd like to know your thoughts on this.
Are you perfectly happy with the battery life of your Nexus 4? Would you consider undervolting your handset for more performance or maybe you already have and could let us know what difference it made to your Nexus 4? Send your comments to let us know.
Source: Laptop Magazine