Best HTC One cases include choices from Otterbox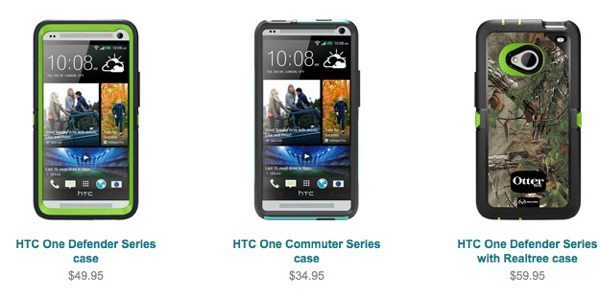 The HTC One is a very significant flagship smartphone and is likely to be one of the most popular handsets of the year. Releasing in regions across the world it will be hitting more and more stores and carriers soon, including AT&T, T-Mobile and Sprint in the US soon. OtterBox is known as one of the best case manufacturers and have come up with some different cases for the HTC One that will keep your prized new phone looking good.
You can rely on a good fit with OtterBox cases as the company is a member of the 'made for HTC' program. The first case for the HTC One is in the OtterBox Defender Series priced at $49.99 in standard color combinations of black, gray, green and pink. Alternative there's a Realtree Camo version priced at $59.99 for a camouflage effect. These cases offer three layers of protection and a built-in screen protector and are the most popular OtterBox line. They also include a holster for clipping to a pocket or belt.
The OtterBox HTC One Commuter Series would be a good choice for those who don't want to add too much bulk. These cases consist of a hard plastic shell and silicone inner shell and are priced at $34.95. These come in different color options including black, glacier, steel blue, lilac and punked.
You can see more about all of these cases at OtterBox here. All are currently listed as 'coming soon' and are likely to release at the same time as the phone itself in the US. At the moment interested customers can enter an email address to receive notification when the cases become available. You may also be interested in our previous article about official HTC One cases here.
We'd like to hear your thoughts on these OtterBox cases for the HTC One. Will you be ordering one for your HTC One and if so do you think the prices are realistic? Let us know with your comments.