Motorola Droid 4 update to Jelly Bean 4.1 meets Verizon approval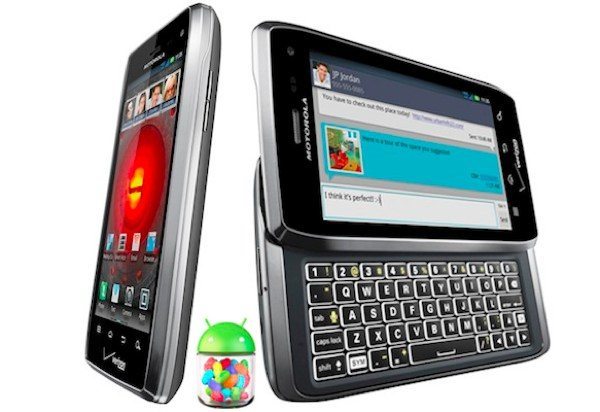 There's promising news for owners of the Motorola Droid 4 on Verizon who are waiting for their first taste of Jelly Bean. Some of you may remember that last week we told how some users of the Droid 4 had received emails asking them to take part in a soak test of a software release thought to be Android 4.1 Jelly Bean. Today we can tell you that as we suspected that testing was indeed for Android 4.1 Jelly Bean and Verizon has now approved the update.
Verizon approved the software upgrade today as build 98.72.18 and once the soak test has rolled out (expected imminently now) the update should be pushed out to other Droid 4 users in the following week or two, bringing owners of the phone all the benefits of Android Jelly Bean.
It's a 356MB update that will take between 35 and 60 minutes to download and a further 15 to 20 minutes to install. It will bring users their first experience of Google Now and Voice Search, improved keyboard, advanced notifications and much, much more. Blur build 98.72.18 also offers improvements to voice, data and hotspot connectivity, graphics and a home screen that will be much easier to personalize.
Enhancements also include smoother transitions between Home screens, a better Calendar user experience, and upgraded reliability and connectivity of Back Up Assistant Plus as well as Visual Voicemail. There are two methods for downloading the Android 4.1 Jelly Bean update to your Droid 4. The first is an OTA (over-the-air) update initiated by the user and the second is an OTA update initiated by the server. For more on this head here.
Hopefully it will not be much longer at all until Droid 4 users begin receiving the rollout of Android 4.1 Jelly Bean to their devices. Are you a Droid 4 owner who has been waiting for Jelly Bean? If you receive notification that the update is now available for your Droid 4 we'd really appreciate you letting us know so that we can share the news with other Droid 4 owners so please do send us your comments.
Source: Droid-Life