Samsung Galaxy S4 UK at Carphone Warehouse, pre-orders with freebies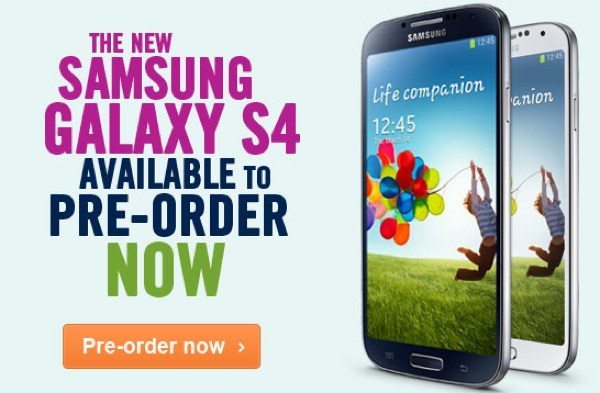 Demand for the Samsung Galaxy S4 is already huge and the latest flagship from the tech giant is due to release at the end of April. We've been bringing you availability details as we've heard them for different regions, carriers and outlets and today it's the turn of the UK's Carphone Warehouse where there's a great special deal and freebies on offer.
We had already told readers how to register interest for the Galaxy S4 at Carphone Warehouse and now we can tell you that the retailer will begin taking pre-orders from today, March 28th. If you're quick there's also a chance of getting your hands on a great freebie. If you are one of those who pre-order online with Pay Monthly and are within the first 2,000 reservations you'll also receive a free 7-inch Galaxy Tab 2 tablet.
Asides from that anybody who pre-orders the Galaxy S4 through Carphone Warehouse on Pay Monthly will also get a free accessory pack with a case, screen protector and car charger. The phone is expected to be available at Carphone Warehouse from April 26th and it looks like the launch of the Samsung Galaxy S4 is going to be almost unprecedented with anticipation almost at fever pitch.
Some branches of Carphone Warehouse are likely to have extended opening hours when the phone first arrives for sale because of the predicted demand. There's no word yet on pricing for various networks but you can be sure we'll bring you more on that as we hear it. Remember if you want to try to get your hands on the free tablet you need to get your reservation in quick.
If you want to place your pre-order or see more on the Galaxy S4 at the Carphone Warehouse then head to this page. Will you be ordering the Galaxy S4 through Carphone Warehouse? What do you think about all of those pre-ordering receiving a free accessory pack? Let us know with your comments.
Source: Mobile Magazine