TELUS Nexus 4 release possibility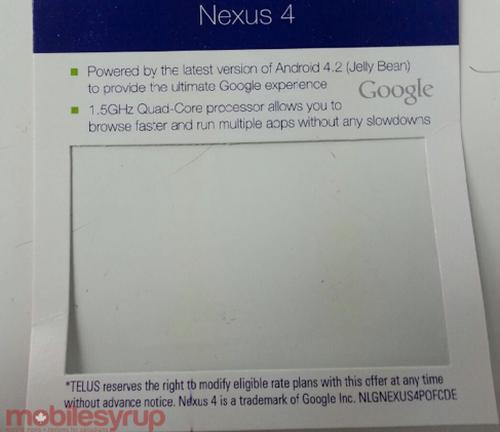 Ever since the LG Nexus 4 was released last year the majority of potential purchasers have wanted to get hold of the device via Google Play, which allows them to get the device without a lengthy contract. Despite the relatively low up front price for a smartphone packing this sort of specifications not everyone can spare that amount of cash, so this is when carrier availability comes in. Now we have news that there is a possibility of a TELUS Nexus 4 release.
TELUS has not been launching much on the Android platform recently but rival carriers have been busy making the Nexus 4 available in the country, but it seems the carrier is getting ready to launch the device if the image you can see on this page courtesy of Mobile Syrup is anything to go by.
While this is only a rumour for the time being without any confirmation from the carrier, what you can see is a price card that has the title of Nexus 4, and provides some of the specs for the smartphone.
At the bottom of the card is some information about the carrier's data plans and the fact the company can modify them at anytime without any notice. Unfortunately there isn't any information placed on the card about the handsets pricing, and we have to wait for news from the carrier itself to have this confirmed.
This news comes after we recently told you about some subtle design changes that the manufacturer has made with the Nexus 4, which for some owners have not gone down well.
Will you be getting the Nexus 4 from TELUS?