Nexus 5 envisioning from dream team, all customizable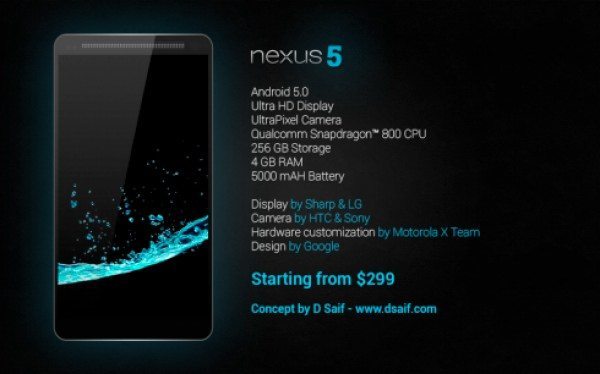 The Nexus 5 is a phone that's coming in for a lot of attention right now and after the huge popularity of the Nexus 4 smartphone, many people are hoping for more big things from the Nexus 5. We've heard conflicting rumors of specs so far but to be frank at this stage it looks like nobody is really sure. While we wait we caught a look at an envisioning of the Nexus 5 from a dream team with every aspect customizable and thought it was interesting enough to share with readers while we wait for something more concrete about the real deal.
We'll just update you with the latest we heard on the Nexus 5 which fitted with news some time ago from Google's Senior VP of Engineering who said that future Nexus devices could have "insanely great cameras." The newest source claimed that the camera of the Nexus 5 smartphone would be a 9-megapixel CCD camera but others were disappointed that these latest so-called leaked specs also showed no expandable storage again (the same as for the Nexus 4) and no full HD display. However of course as with all such leaks these details cannot be verified.
Back to today's Nexus 5 look then and when accurate news about devices we're really looking forward to is so thin on the ground we enjoy looking at concept designs as they can give us a great idea of what could be on offer. Recently we gave you a look at a Nexus 5 concept, which we thought looked pretty good and came with some imagined specs, which were not too over the top. Today though we've come across a new concept design for the Nexus 5 and we think the design of this one is even better, although the specs are indeed the stuff of dreams.
This Nexus 5 rendering comes from D. Saif and shows a really sleek device with miniscule bezels leaving the phone's front as virtually all display with not a millimeter wasted. Many have speculated that the next Nexus pure vanilla Google Android phone will once again be produced by LG but Saif wastes no time pondering this and for his mockup has decided that this is dream team project between HTC, LG, Motorola, Sharp and Sony.
Listed specs for this dream Nexus 5 include Android 5.0 Key Lime Pie (okay so that one's pretty realistic), with Ultra HD display, UltraPixel camera, Qualcomm Snapdragon 800 CPU, 4GB of RAM, 256GB of internal storage and a 5000 mAh battery. The design is a collaboration between Sharp and LG, the camera by HTC and Sony and hardware customization by the Motorola X team. Finally it has been designed by Google and comes with a $299 price tag. A really interesting aspect of this concept Nexus 5 is that every aspect of the phone would be customizable putting control into the consumers hands. This means a choice of different megapixel cameras, different internal storage options, battery capacities and RAM.
We think this would be really appealing to most potential Nexus 5 customers as aspects of a smartphone that are important to one owner may not be as important to another owner. What are your thoughts on a completely customizable Nexus 5? Do you imagine that the above manufacturers might ever come together to produce a Google Nexus device? Let us know by sending your comments.
Source: Concept Phones