Sony Xperia SP & L should hit UK shelves this month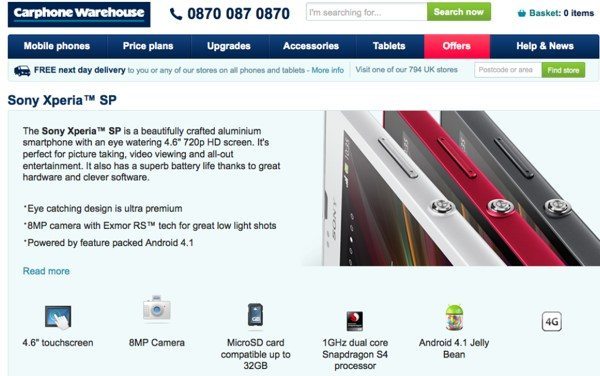 Two new smartphones, the Sony Xperia SP and the Sony Xperia L were both officially announced in the middle of last month with Sony saying that they would be released from Q2 this year. If you're thinking of purchasing either of these handsets then you could be forgiven for thinking you may still have to wait until as late as June but if you're in the UK it seems the Xperia SP & Xperia L could be released later this month.
The Sony Xperia SP & L both have some decent specs with the SP being the best of the two. They both look sleek and stylish too and should become available at competitive price points (some early price leaks here). So far pricing has not been confirmed but online retailers Clove and Expansys indicate that the price of the Xperia SP will be around £320 while the Xperia L is likely to cost around £240.
Carphone Warehouse in the UK doesn't list the prices for either phone yet but has product pages available for both phones where you can register your interest in the Sony Xperia SP or L. The good news though is that Information on these same product pages says that both of these phones are "expected April 2013," so UK buyers may not have too much longer to wait at all.
As a brief reminder of specs we can tell you that the Sony Xperia SP has a 1.7GHz Qualcomm Snapdragon dual-core processor, 4.6-inch HD display with resolution of 1280 x 720, 1GB of RAM and 8GB of internal storage, expandable via microSD. There's also an 8-megapixel rear camera, VGA front-facing camera and LTE connectivity.
The Sony Xperia L on the other hand has a 1GHz dual-core processor, 4.3-inch FWVGA display with resolution of 854 x 480, 1GB of RAM and 8GB of internal storage, expandable via micro SD. Specs also include an 8-megapixel rear camera and VGA front-facing shooter.
We think that both of these Sony Xperia handsets should find a good market and hope that the Carphone Warehouse messages of availability this month in the UK turn out to be accurate. You can find those product pages for the Xperia SP here or Xperia L here. Have you got your eye on either of these handsets? Send us you comments to let us know.
Source: Unwired View