HTC One Developer Edition pre-orders kick off today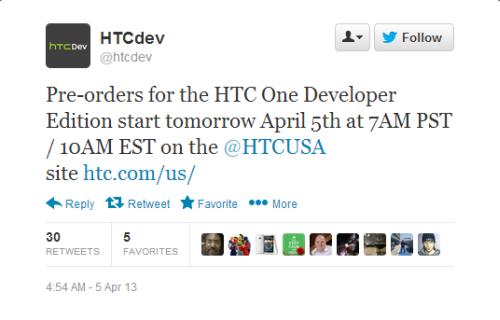 The HTC One is beginning to become available in various markets around the world in the next few weeks, and the handset certainly looks to be putting the company back on the Android map, and now we can tell you that the HTC One Developer Edition pre-orders will be kicking off later today.
Last month we told you that the device will becoming available at some point but could only be available in limited quantities, and now it has been confirmed that pre-orders will begin at 10am EDT following a tweet by the company.
The device with its unlocked bootloader and SIM will offer owners the some great customization choices, and will be available for a price of $649. This gets you 64GB of on board storage and considering there is no microSD card support many owners will be needing all of that memory.
It is expected to be delivered around the 19th of this month which is around the same time the device is expected to arrive on AT&T and Sprint, and is a credit to the company making the Developer Edition available at the same time as the carrier versions start arriving.
The HTC One Developer Edition will run on the 2G/3G/4G/LTE bands of AT&T. HSPA+ support is available for 850/1900/2100 MHz which leaves out the 1700MHz used at T-Mobile for such signals. The carrier has changed some of its markets to 1900MHz so there could be some support in these regions.
Are you going to get the HTC One Developer Edition?
Source: HTC Dev.