BlackBerry S10 conjuring mixes best of Z10 and Q10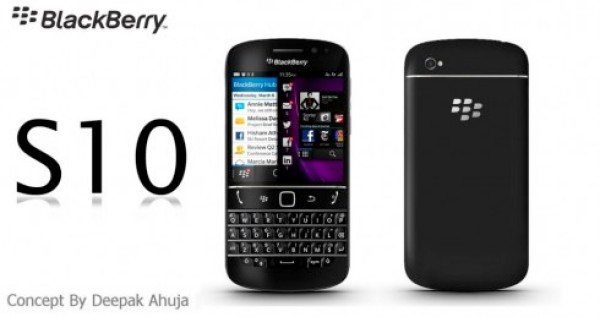 We've had a few months now to start getting used to the all-new BlackBerry 10 operating system and the first devices to run it, the BlackBerry Z10 and the soon-to-release BlackBerry Q10. The Z10 has met with respectable sales so far and the Q10 is also set to do well as it has the customary BlackBerry QWERTY keyboard lacking on the Z10. So how about the BlackBerry S10, a conjuring mixing the best of both? Read on for further details.
It's fair to say that BB10 does seem to have rejuvenated the BlackBerry platform and we recently also heard about the budget BlackBerry R Series, due to release later this year. We hadn't heard of the BlackBerry S10 though but it turned out there was a reason for this as so far it is merely one designer's conjuring of a BB10 smartphone. Still from time to time we enjoy looking at concept designs as they can help us imagine what sort of devices could be offered in future months.
We thought this BlackBerry S10 concept phone was interesting enough to share with readers as we think it could really appeal to plenty of people. It comes from one of our favorite concept designers Deepak Ahuja and we also recently showed you his concept for the iPhone 5S that you may want to check out here. His BlackBerry S10 rendering (that you can see pictured above) is of course running on BlackBerry 10, is powered by a 1.2GHz quad-core processor and has a 3.6-inch Super AMOLED display with resolution of 720p.
Other specs imaginings for the BlackBerry S10 include an 8.1-megapixel rear camera and 1.9-megapixel front-facing camera, 16 or 32GB of internal storage and a 2400 mAh battery. Ahuja's vision of the BlackBerry S10 appears to combine the sleek styling of the Z10 with the QWERTY keyboard and trimness of the Q10. We'd really like to hear from readers about this concept BlackBerry phone and what you think of it.
Are you a fan of the new BB10 OS and if so might you choose a handset like the BlackBerry S10? What changes would you like to see to make the S10 even more appealing? Let us know with your comments.
Source: Concept Phones