Galaxy S3 on Verizon price cut could signify new arrival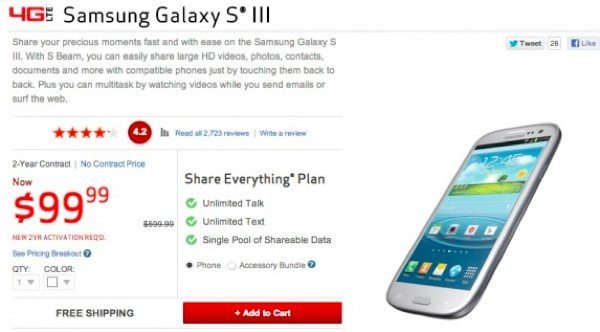 The Samsung Galaxy S3 is a great all-round Android smartphone that has been phenomenally successful and of course the Galaxy S4 was recently announced and will start to release in various regions later this month. As we expected, the price of the Galaxy S3 has been drastically reduced on some carriers or from some retailers already and now Verizon has joined in the slashing frenzy. We wonder if this could signify a new arrival.
A week ago we rounded up some of the many instances where the price of the Samsung Galaxy S3 has been lowered and two of those cases were on US carriers AT&T and T-Mobile USA, both of whom have announced they will be carrying the Galaxy S4. Verizon has still made no such announcement but the fact that Big Red has now also cut the price of the Galaxy S3 does indicate that the carrier could well be expecting the Galaxy S4 shortly.
More evidence that the Galaxy S4 is heading to Verizon comes from the fact that a Verizon variant has already passed through the FCC but it's possible that it may be one of the last carriers to offer it rather than one of the first. The price of the Samsung Galaxy S3 on Verizon has now been dropped to $99.99 with a new two-year contract.
We've previously said that now is a great time to purchase the Galaxy S3 as even though the Galaxy S4 will arrive soon the Galaxy S3 still has a huge amount to offer. We'd like to hear your thoughts on this. Could you be tempted to a lower-price Galaxy S3 even though the Samsung Galaxy S4 is about to hit the shelves?
Source: Droid-Life