HTC One April 24 arrival at T-Mobile USA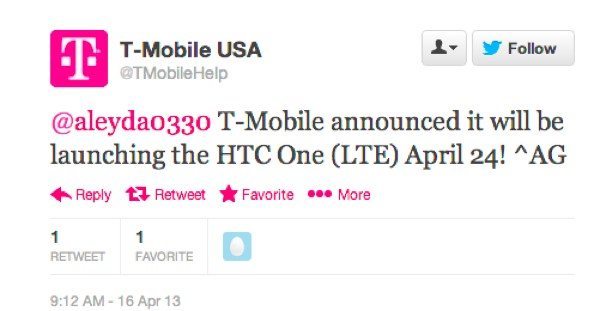 The flagship HTC One smartphone is already wowing customers in regions where it has seen a release. If you're a T-Mobile customer in the US and eager to get your hands on this phone then here's some news that you should find satisfying as the carrier has confirmed that the HTC One will be available on April 24.
There's only one more week to go then and although pricing has not yet been confirmed we told readers previously that the price is expected to be $99.99 upfront on the new Simple Choice Plans, followed by 24 monthly payments of $20. This plan enables the user to change to another carrier if desired.
The HTC One on T-Mobile will also have LTE connectivity and will also offer Wi-Fi calling. It will join other phones compatible with T-Mobiles blossoming LTE network such as the iPhone 5, Samung Galaxy 4 and BlackBerry Z10 and T-Mobile made the date official by announcing it on Twitter.
A quick reminder of specs for the HTC One reveals a 1.7GHz Qualcomm Snapdragon 600 quad-core processor, 4.7-inch Super LCD3 display with resolution of 1920 x 1080, 2GB of RAM and 32 or 64GB of internal storage (non-expandable). It also has the UltraPixel rear camera with 1080p video capture, 2.1-megapixel front-facing camera and runs on Android 4.1.2 Jelly Bean, upgradable to 4.2.2.
We think there will be plenty of people waiting to purchase this impressive device. Are you a T-Mobile USA customer about to purchase the HTC One? Let us know why you have chosen this smartphone over others available by sending your comments.
Source: TMONews